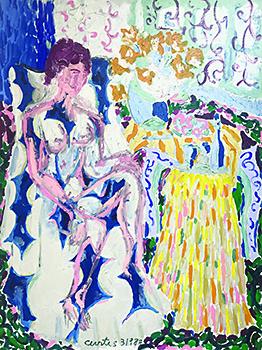 Like moths to a flame, most of us are interested in seeing original works of art by our favorite celebrities. What would be the subject of a painting or drawing by Michael Jackson, Johnny Cash or Mohammed Ali?
What art style would Jimi Hendrix prefer that reflects his musical genius or Richard Petty when he was not racing cars?
From sophisticated paintings to whimsical watercolors, the newest exhibit at Gallery 208, The Alex Munroe Collection: Artwork by Celebrities, which opens Oct. 11, reveals what multitalented superstars have chosen to create in paint, colored pencils or watercolors during their private life.
The exhibit is also as much about the collector as it is about the exhibition. The Alex Munroe Collection: Artwork by Celebrities reveals much about the collector's personality, his personal life choices, and why he has chosen to collect over 200 works by celebrities.
Curiosity will bring you to the gallery to see the original works by the following celebrities: Janice Joplin, John Lennon, Grace Slick, Mohammed Ali, Jacques Cousteau, David Bowie, Paul McCartney, Sid Cesear, Nancy Wilson, Red Foxx, Jimi Hendrix, Tony Curtis, Johnny Cash, Michael Jackson, Charleston Heston, Phyllis Diller and Richard Petty.
You will leave the exhibit with an unexpected and surprisingly pleasant experience. We can compare what we have already experienced, the mass media way of knowing a celebrity, juxtaposed with something that feels personal and private. The more you know about each star, the more you will appreciate the experience of seeing the exhibit.
For example, Jimi Hendrix's career gained popularity with his first single, "Hey Joe," and his follow-up, "Purple Haze." A pioneer as one of the most outstanding instrumentalists in rock music history, Hendrix manipulated the distortion and feedback from an electric guitar into a type of fluid language.
While superstar Hendrix is on the road traveling, in a motel room waiting for a concert, or home — what and why did he choose to paint, and what style best suits the fluid language of his music? Would it be a narrative story and have a figure in the painting? What would the figure be doing?
Hendrix was likely sensitive to seeing color as sound. Instead of a narrative style, Hendrix selected patterns and abstract-colored shapes to create movement across the surface of the page. Each color chosen creates a rhythm: the color yellow pops forward, sky blue slows down the repetitive beat and holds us in a musical pause, while the color deep red, like a symphony slowly increasing in volume, gains momentum in the overall composition.
Hendrix didn't need to know Chromesthesia is the name of a neurological phenomenon in which the stimulation of one sensory pathway leads to an involuntary experience of another sensory way. If we are familiar with Hendrix, all we need to know to enjoy his work is that a musical genius chooses only colors to create mood and rhythm in his design.
It's noteworthy that country singer Johnny Cash, like Jimi Hendrix, also abstractly uses patterns of color. Unlike Hendrix, whose design does not reference an object or person, the color mosaic patterns of Cash result in the image of a bird in movement. Centered on the page, Cash's bird seems to be ascending upward.
The imaginative, whimsical and minimal watercolor by John Lennon hangs on the gallery wall in contrast to a large painting by a cultural icon, the actor Tony Curtis. An American film actor, well known for six decades, he was the most popular in the 1950s and 60s. Of the 100 movies Curtis made and always performed with award-winning academy actors, the pop culture generation may know him for his role as a supporting actor in "Spartacus" or by his daughter, Jamie Lee Curtis.
Curtis had a passion and talent for painting in the post-impressionist style. His choice of subjects were colorful still lifes, landscapes and portraits. His painting titled "Red Table" is in the collection of the media wing in the Museum of Modern Art in New York.
Seeing another of his works, the sizeable figurative painting at Gallery 208, visitors will easily recognize the influences of Van Gogh and Henri Matisse. Whereas some of the works in the exhibit reflect a relaxing hobby, Curtis created a large body of work during his lifetime and was very clear on his intent. Artnet quoted Curtis saying, "When I paint, I don't paint shapes; I paint colors."
If you attend the Oct. 11 opening, you will not only be fascinated by the exhibit but also by the collector. Alex Munroe will briefly discuss the art of collecting at the opening reception. Gallery 208 only exhibits 18 of an extensive body of work — over 200 pieces in his collection.
What someone chooses to collect tells us a lot about the individual. All collectors like the works by the artist(s), but they also assume the work could appreciate. For many investors, their collection symbolizes success within social circles.
Attending the exhibit, you will not assume Munroe's eclectic collection is a way to affirm himself as a social success. Instead, it is easy to sense the collection represents the collector as having an entrepreneurial passion for the unexpected and a highly creative way of seeing the world and culture around him. Upon meeting Munroe, you will readily see the collection as a self-expression of a fun-loving personality with various interests and a positive outlook.
Munroe stated, "I buy art for the sheer enjoyment of sharing it with people. Research has shown that when people view art, the brain releases chemicals that make them feel secure and happy. My art takes this concept to an even higher level as a celebrity has the added benefit. To see a piece by Jimi Hendrix, Paul McCartney or Richard Petty adds an element of awe."
So, how do you share over 200 works by celebrities with the public? Create the ambiance for a restaurant by hanging your framed original art collection stacked up on the walls and even hanging the work in the bathroom and bathroom stalls. That's easy to build and own a restaurant with good food but also has the restaurant's décor that exudes your outgoing and engaging personality.
This gallery and eatery exists in Elizabethtown, off Interstate 87, and is a combination restaurant, bar and ballroom. The stacked artworks filling the walls are in an 1850 Salon exposition style. The list is unexpectedly endless, while dining at the Cape Fear Winery, and includes works by Picasso, Salvador Dali, Matisse, Ron Wood, Ringo Starr, Dr. Suess, Jonathan Winters, Eric Clapton and more.
As noted earlier, the collector is just as curious as the collection is. Graduating from UNC-Chapel Hill with a BA in Advertising, Munroe started his first company in Wilmington, in 2000, producing and selling detectable warning systems. Munroe then returned home to expand his company at the Elizabethtown Industrial Park.
Munroe states it best: "The abandoned winery was across the street from my office. It was a beautiful property, so that I would walk my dog there every day. I discovered it was in foreclosure, so I leased it the day I found out. Worst case, it was a beautiful property, so it was a valuable real estate to me. I asked around and decided the area needed an event venue, restaurant and lodging."
The Cape Fear Winery expanded to include a restaurant, a distillery, a venue for weddings or special occasions, and a new gift shop and spa. With the collection always hanging, the restaurant is always the place to venture to when you are ready for good food and an eclectic dining experience!
Eventually, visitors to the restaurant will be able to see his most recent works, six more "Peanuts" pieces by Tom Everhart and an original by famous guitarist, Slash.
One would assume Munroe had lived in Los Angeles for many years and was directly influenced by celebrities to collect celebrity art. To my surprise, Munroe's brothers unknowingly influenced him to become a collector.
Munroe tells his story about going to New York City with his family as a young boy. He stated, "Coach Dean Smith was on the plane, and my brothers dared me to go get his autograph. I did, and my brothers thought I was so cool. So, to keep impressing them, I bought more stuff and suddenly had a nice collection. I have a broker in San Francisco who helps me acquire rare pieces when they come available, usually about a year after the celebrity passes away."
What began as a "way to impress his brothers" became a sincere passion, enriching the area where he was raised as a child. Munroe believes "great art will be around forever, and long after I'm gone. I think of myself more as the current proprietor of the art instead of the owner. You usually have to go to a big city to see the caliber of some of the art I have, so I'm happy to be able to share it locally. Before I opened the winery, most of my art was in cylinders in my attic. I originally thought I'd display select pieces, but as people started coming and asking if I had more, I happily hung more pieces on the walls."
The public is invited to attend the opening reception of The Alex Munroe Collection: Artwork by Celebrities on Oct. 11 from 5:30 to 7:00 p.m. at Gallery 208 on Rowan Street in Fayetteville.
Gallery hours are Monday thru Thursday, 9:00 a.m. to 4:00 p.m. For anyone who cannot attend the opening, the exhibit will remain at Gallery 208 until Dec. 15. For information, call Up & Coming Weekly at 910-484-6200.