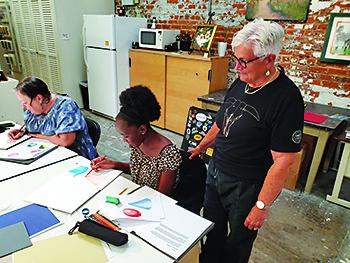 Often overlooked objects such as bottle caps, jars and marbles step into the spotlight thanks to artist Donna Slade's new exhibit The Color Of Ordinary featured at Cape Fear Art Studios until Oct. 23. The exhibit honors the colors and textures of these everyday items.
"I try to bring those objects — that maybe in an antique store that somebody walks by — to life in a pencil drawing," Slade said.
The Wake Forest based artist said many pieces in the exhibit draw inspiration from objects found in antique shops. Many of these items now receive less attention due to modern technology, according to Slade.
"Those things are disappearing or folks are not as interested in them anymore, and you just don't think about those things as much anymore, so it's just important to keep them out there and remember those things," Slade said.
Steve Opet, board president of Cape Fear Studios, said he hopes events such as this exhibit help to expose those in the area to art, further elating those already interested in art, and encouraging others to get more involved in viewing and practicing art.
"It's an important way to express to the community and bring art to the community that they otherwise normally wouldn't have a chance to be exposed to," Opet said.
Describing the exhibit as "light and airy," Slade said she hopes this collection of her work brings viewers enjoyment and some respite from the stresses of life.
Most of the works have been created with colored pencils.
Slade's process for approaching this exhibit's pieces begins with a reference photo. After making a sketch, Slade begins incorporating colors, moving from dark to light. Her pieces have as many as 25 to 30 layers.
Though the process can take up to hundreds of hours, Slade says she doesn't bother keeping track of time.
"I would spend more time keeping track of the hours than working on them, and I'm not sure I want to know," she joked.
Slade originally spent time as a graphic designer for around 30 years and always was involved in art. Originally composing pieces with pen and ink, Slade turned to colored pencil for more detail. Slade says she has been creating with colored pencils for about 25 to 30 years.
Opet highlighted that anyone could come to enjoy the art featured in the studio, saying the studio seeks to expose those in Fayetteville and the surrounding areas to various forms of art and expression.
The Color of Ordinary is not Slade's only active exhibit. Her collection of works entitled Faces of Colombia: The Invisible Communities will be displayed at the Cumberland County Arts Council until Oct. 29.
Slade said she hopes the significance of physical art is not lost due to technology, and she emphasized the importance of continuing to appreciate it.
"The world needs art," Slade said. "And I have a feeling that the technologies are taking that part away from everybody and I hope that the computers and the computer programs and the drawing programs never take away original art. And I think it's something that everybody needs to appreciate and hopefully that continues."
Cape Fear Studios is located at 148 Maxwell Street in downtown Fayetteville. For more information call 910-433-2986.