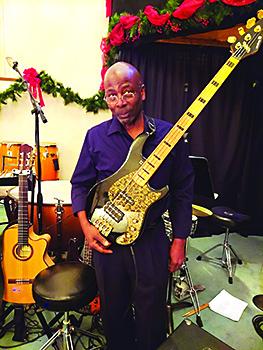 The military marching band is always 42 members, said Dr. Willie Lockett, who spent 25 years in United States Army bands all over the world. The band marches in a block five rows by eight, with a commander at the leading right corner and a first sergeant up front holding a mace.
In 1973, 17-year-old Lockett enlisted in the United States Army. Born in Jacksonville, Florida, he knew he wanted to be a military bandsman, but finding his way to an audition wasn't as easy as the recruiter made it seem.
Anybody can join the band if you sign up is what the recruiter said, but "that's not true," he said. "I signed up for a Hercules missile crewman, so then I went to Germany."
In Germany, Lockett maintained a nuclear missile pointed at Russia from an isolated silo carved into the top of a hill. There was no one there but crewmen.
"The first guy I saw that had some rank, I said, 'Can you get me in the band'?" said Lockett. "He made some phone calls," and after an audition he was in the Army band in Kaiserslautern before getting transferred to the 8th Infantry Division Band, still in Germany.
Lockett was maintaining surface-to-air missiles while honing musical skills that would serve him for the rest of his life.
"My job was a Hercules missile crewman ... but I was detailed to the band," Lockett said.
Because the military requires every musician to play a "march-able" instrument, Lockett played percussion any time the band marched. Fortunately, he could sight-read drum music. Reading bass music was a different story: he played by ear.
"When I got in the band, the only thing [we did] was play music," Lockett said. "At the time, I was low rank, living in the barracks. The only thing [I was] responsible for was to practice."
Luckily, the barracks and practice room were on the same floor, so Lockett and his comrades jammed "from sun up to sun down."
"That's all we did was practice," Lockett said. "So, I got pretty good at reading on bass."
Along with the 8th Infantry Band, Lockett was Rhythm Group Leader for the 1st Cavalry Division Band in Texas, and Senior Instructor at the Army's School of Music in Virginia.
"As you make rank, they just give you a different title," Lockett said. "When you first come in, you're just a bass player, a piano player, flute player, etc. When you become E-6, then you're a section leader. When you become E-7, you are now a group leader, and so on."
After completing Warrant Officer school, Lockett went on to become the Commander/Bandmaster of the 82nd Airborne Division Band at Fort Bragg. He later held the same position at the 2nd Infantry Division Band at Camp Casey in Korea.
"The majority of your gigs, band wise, here at Fort Bragg, is going to be ceremonies," Lockett said.
"In fact, my rookie year as a bandmaster, we did 1002 performances in one year," he added.
Despite being a marching band, Army musicians spend most of their time away from the parade field, entertaining service members and civilians alike in jazz and rock and roll ensembles, as well as other settings.
The bugle player might have five burials in a day, Lockett said. There's change of command ceremonies, civilian events like the International Folk Festival and Fayetteville State University homecoming parade.
"The Army plays music at each one," he added.
Unfortunately, being an Army bandsperson isn't music 24-hours-a-day; when there's a conflict, musicians have military duties to fulfill. The entire time Lockett was in the military, he said Army bands assumed other duties during wartime.
"The military band is one of the few jobs in the military where your peace time job and war time job are different," Lockett said. "You're not going to play music on the battlefield."
He said, during Desert Storm, one half of the band provided security for a general, while the other half of the band augmented the military police processing Iraqi prisoners.
Since retiring in 1998, Lockett has pursued computer science degrees from multiple universities throughout the United States. His upwardly mobile Army career made education somewhat of a luxury.
"When you're in the military, you go to whatever school is servicing that military [installation]," Lockett said. "When I got to Fort Bragg, I was finally able to go to school on a regular basis."
In Fayetteville, Lockett got an associate degree from Fayetteville State University because at the time FSU was the only school that would give diplomas to active duty soldiers.
"Once I got out [of the Army], I went to the University of North Carolina, Pembroke on the G.I. Bill," he said, "and it took me a year to get a bachelor's degree because I had accumulated credit hours."
Afterwards, Lockett earned his master's degree from the University of Phoenix, and his Ph.D. from Capella University.
"It took me three years to write my dissertation," Lockett said.
Today, Lockett is a professor of computer science at Fayetteville Technical Community College. He's still playing electric bass, too, in a Carolina Beach Music band based out of Greenville named The Main Event, as well as in local churches.
"I'm 68 right now," Dr. Lockett said.
"I could retire, but I like moving around and being busy."