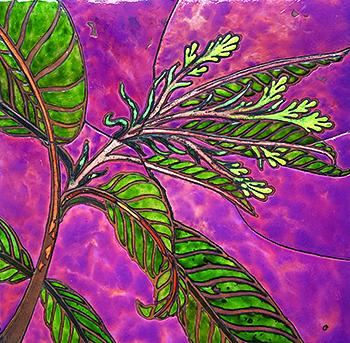 The chapters of this remarkable story include a world-class Ukrainian enamellist, a war raging in Ukraine because of Russia's invasion, and a local family in Fayetteville, North Carolina, who just wanted to make a difference in the life of a Ukrainian artist.
Retired couple David and Rebecca Wendelken, both practicing artists, have a home with pottery, wood, and an enameling studio; so, the idea of sharing their home and a studio with a Ukrainian artist seemed "like the right thing to do."
The Wendelkens knew a jeweler in Ukraine and invited her to come to North Carolina at the beginning of the invasion. The artist declined, noting she and her friends were making Molotov cocktails instead of jewelry. The Wendelken family posted an invite to other Ukrainian artists who would benefit from the usage of one of their studios. The response was from many Ukrainian artists and included Oleksii Koval, an internationally known enamel artist.
Koval was visiting family in Slovenia when the invasion began. The bombs and fighting were only several miles from his home and studio in Kyiv. On April 12, Koval arrived in Fayetteville. He now resides at the Wendelken's home, and began working in the enameling studio as early as April 15.
Fast forward six months to Nov. 25, during the 4th Friday celebration in downtown Fayetteville, the public will be able to see Koval's most recent works made in the Wendelkens' studio in an exhibit titled Buds and Cathedrals at Ellington White Contemporary Gallery on Gillespie Street.
Buds and Cathedrals is a body of work inspired by the Ukrainian artist's recent move to North Carolina. Visitors to the opening will meet a world-class enamel artist who is always happy to talk about what inspires him and meet people from around the world.
From Nepal to Chicago, Koval has traveled the globe and is inspired by the beauty of world cultures. Koval shared what has inspired him while living in Fayetteville: "I am inspired by the light and colors in North Carolina … The blue of the sky and colors of the flowers are so bright. I love the pine and the magnolia trees; the variance of colors and the landscape is beautiful."
Oleksii Koval has exhibited his large-scale enameled works of art in museums and galleries worldwide, and collectors worldwide have invested in owning his work for its grandeur and beauty.
Since enamel is usually thought of as a technique for small-scale work, the image titled "Destiny," owned by a collector in Spain, is an example of the scale of his work.
Visitors to Buds and Cathedrals will see exquisitely crafted designs, close-ups of flowering trees the artist has observed while in Fayetteville, and a series of interpretations of cathedral windows. All finished works begin as an idea inspired by what Koval experienced in the present, but they are also the result of a lifetime of study, travel and education.
Depending on where Koval has traveled or thinking about an inspirational theme, the artist works in thematic series. He notes that when many works in a series are selling, he will end the series and begin a new body of work. When asked why, the artist smiled when he said: "I do not mass produce works of art, nor am I tempted to mass produce. I am happy that the work is being enjoyed and is selling, but then it's time to begin a new body of work to keep the art fresh, and innovative — for me it is important to stay inspired and create new challenges for myself."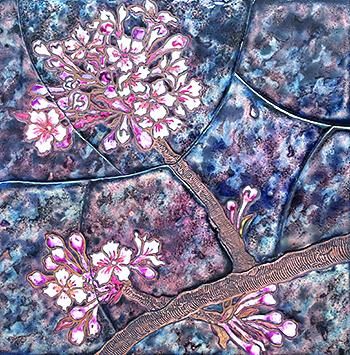 Koval was trained in the traditions of fine art, including studies in drawing, painting and sculpture. In 1996 he graduated from the Republican School of Art, then continued his education and graduated in 2002 from the National Academy of Fine Arts and Architecture. After graduation, Koval created over 100 works in Ukraine and abroad in mediums of frescoes, mosaics, ornaments, and drafts for stained-glass windows. It was not until 2006 when he attended a hot enamel workshop with Ivan Kyrychenko that Koval discovered the medium that enabled him to bring his ideas to fruition — a way to express his experiences about beauty and the nuances of life.
The process of enamels, light passing through layers of glass combined with the boundaries of metal and larger shapes, became Koval's way to express himself about the world around him. The floral works in Buds and Cathedrals are like witnessing glaciers floating in a sea of light, the shapes of glass merge, bringing to life a harmonized pattern of all that is beautiful and a love for everything that is living.
After a trip to India, Koval was inspired by landscape fragments and expressive faces to create his experience of the country and its culture; as well he combined specific images from the ethnic ornaments of a particular province.
Koval commented, "In this body of work I chose the oval form since it represents the eye as the symbol for looking at the world."
Many people are familiar with enamels as an ornamental inlay process often referred to as cloisonné. This process of applying a thin coat of finely ground glass to metal, then heating it at high temperature until the glass melts or fuses to the metal is as old as ancient civilizations. According to Karen L. Cohen for Ganoksin educational site for jewelry: "The earliest known enameled pieces have been dated to the 13th century BC when Mycenaean goldsmiths inlaid enamels into gold rings. Since then, cultures all over the world have incorporated enameling into their art forms. In the 5th century BC, Greek artisans used enamel to decorate artwork such as the Phidias statues of Zeus … gold cloisonné was popularized by the Byzantine Empire during the 9th through the 11th centuries AD … a revolution in enameling occurred in the late 15th century when a new method of 'Painting' with enamels was developed called "Limoges" — the first-time enamel colors touched each other without the use of separating wires or metal."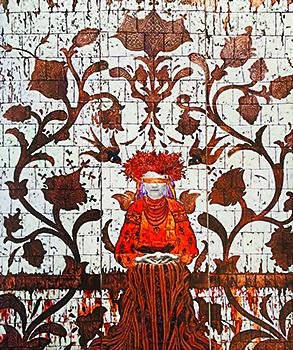 Visitors to Buds and Cathedrals are fortunate to be able to see the enamel work of Koval and meet him due to the kindness and generosity of David and Rebecca Wendelken. His story includes an artist who had to leave his country where making an income is impossible, supplies, sustenance and resources are limited or nonexistent, a place where honored historical works of art and architecture are being systematically destroyed, and treasured works of art are stolen from museums and state collections.
The public reception for Buds and Cathedrals is 5 to 7 p.m. on Nov. 28 at Ellington White Contemporary Gallery, 113 Gillespie Street. For more information on the gallery, visit www.ellington-white.com/.
Readers can open a link to the artist talking and see him working in his studio at www.youtube.com/watch?v=zck4UsuYPzA or go to the artist's website to see many bodies of work: www.oleksiikoval.com/video.
The exhibit will remain in the gallery until Jan. 8, 2023. Regular business hours are Thursday — Saturday, 11 a.m. to 5 p.m.