By definition, a coffee table book is "a large, expensive, lavishly illustrated book, especially one intended only for casual reading." Not bad for a definition, but coffee table books are so much more! A good coffee table book can stimulate conversations, add personality to your living space and be a resource of information and insight at fingertip reach. The books you pick for this coveted spot should tell guests to your home a bit about you.
What story does your coffee table tell?
If you are a travel bug, like me, your coffee table tells all. Countless wonderful travel books are on the market; I am drawn to these books, particularly on trips to places I have fallen in love with. I want to remember my trips, see the pictures of the special places I've visited and read more about them long after my suitcase has been put away.
Some buy coffee table books about their favorite movie stars or musicians. For me, this would be Elvis. I've had several books with pictures of The King over the years of his career. When I need a walk down memory lane to reminisce about my teenage years, I pull one of them out to look through again.
Hobbies are also a favorite subject, and coffee table books devoted to them contain a wealth of information. Book lovers can buy beautiful volumes on quilting, embroidery, dolls, classic cars and almost anything you can imagine. I have books on Hummel and Lladró figurines because, even though I have only a small collection of these, I love to look at the more elaborate, pricier creations.
One of the words in the above definition of coffee table books is "expensive." However, it isn't hard to find gently used, "like new" copies because people's tastes change, or they get rid of one when they find another. A book that may be anywhere from $35 to well over $100 brand new can be found at used bookstores or yard sales for a fraction of the price. Be on the lookout for some beautiful books like the ones below.
"The Face of the Monarchy: British Royalty Portrayed" by Richard Ormond
As the passing of Queen Elizabeth II has shown, many of us are obsessed with the royals. This book covers their history from the medieval kings and queens through Elizabeth II. The numerous portraits and photographs of the royal families are accompanied by informative text.
"Diving in the Indian Ocean" by Jack Jackson
Are you intrigued by the amazing creatures that live in the sea? Are you a scuba diver, or do you have a friend who is? This gorgeous book is filled with spectacular photographs that might entice you to visit this underwater region with a snorkel or scuba gear. Sitting on your sofa and reading about these amazing sights will make you feel as though you are there.
"Wildlife: The World's Top Photographers and the Stories Behind Their Greatest Images" By Terry Hope
If images on land are more to your liking, this amazing book will certainly get you signing up for the next safari or another adventurous trip. You may want to overlook the scary, close-up image of the snake's eye on the cover, but you must admit it is amazing.
"The Rocky Mountains: A Photographic Celebration" by Gallery Books
With 245 color photographs and detailed text describing their history from the early explorers, this book helps readers learn why the Rockies enticed so many to give up everything to travel west to find their fortune. You can peruse this book with photographs by some of the world's most accomplished photographers and perhaps use them to plan a trip to the magnificent national parks in America.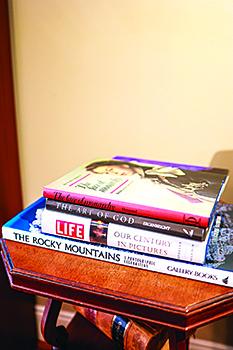 "Cezanne" by John Rewald
Is art more up your alley? This pictorial biography of the artist called the Father of Modern Painting is filled with over 270 illustrations, including 118 color plates and photographs. This gorgeous coffee table book will mesmerize art lovers, art history students and anyone who appreciates beauty.
"The Art of God: The Heavens and The Earth" by Ric Ergenbright
We often say that if you want to see God's Hand, look at nature. Ric Ergenbright did just that with his photographs of nature and the beauty of our world. The pictures are one part of God's creation illustrated in this book. The other part — the word of God — is found in the Bible verses included in Ergenbright's text accompanying each image of His perfect world.
"LIFE: Our Century in Pictures Edited" by Richard B. Stolley, Text by Tony Chiu
Many of us grew up waiting for LIFE magazine to come in the mail to see what was going on in America at the time. This book chronicles the decades of the 20th century from the Rough Riders, the depression, two world wars, the dissent and disobedience of the 60s and 70s and the approach of the new millennium. Over 700 photographs tell the stories of significant events and people of the last century. This selection might be the one if you had to pick just one book for your coffee table.
Coffee table books are not just to decorate your table. These reads are exciting and informative books that take us to places we have never been and teach things we didn't know.
Editor's Note: City Center Gallery & Books is located at 112 Hay Street in Fayetteville. For more information call 910-678-8899. This article first ran in the December issue of Women's View Magazine.