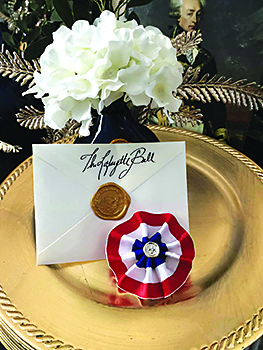 Have you ever watched a regency-era film or show and thought, I would love to go to a ball like that; be a part of group dances, flirtatious fanning, fortune telling, and insidious gossip about the local social and political scene? Guests can expect all of that and more at the upcoming Lafeyette's Grand Birthday Ball and Soiree.
Rebecca Russell, owner of Beespoke Vintage, is a lover of history and historical fashion. The idea of hosting a ball started out as just hosting a few sewing workshops teaching people how to make their own Regency-era clothes. The recent t.v. show, Bridgerton, along with the everlasting love of Jane Austen, has kept people's interest in fashion of the early 1800s.
Russell thought, "Why not host a ball where people can wear the clothes they just learned how to make?"
"The ball took on a life of its own and got bigger, well, much bigger, than the workshops. As I was researching ideas and putting the ball together, I discovered that Fayetteville had a Lafayette Society. And what do you know, there's a big bicentennial thing coming along, which I didn't even know about when I first started planning it."
Gilbert du Motier, Marquis de Lafayette, was a French aristocrat, freemason, and military officer who volunteered to join the Continental Army led by General George Washington in the American Revolutionary War. Fayetteville was the first city to be named in his honor in the United States, and the Marquis visited the town in March of 1825. The Lafayette Society promotes awareness of Lafayette's significant contributions to mankind and freedom by conducting events, programs, and educational activities. They also host a weekend full of events in honor of Lafayette's birthday.
The birthday ball will start at 7 p.m. at the Skyview on Hay Street. The First Dance Set will begin at 7:30 p.m. The second dance set will be at 8:20 p.m. Birthday toasts, followed up with cake cutting, will be at 9:15 p.m. The third dance set will be at 9:45 p.m. and the ball will start closing out around 10:30 p.m.
"We'll have a dance mistress who will call those dances out to explain how they work and then we'll have the dances run. It'll be a lot of fun. A lot of [the dances] were basically equivalent to maybe the Macarena today, or the electric slide or something like that," Russell said. "Basically get everybody out on the dance floor and in a fun, social way."
If dancing isn't your thing, there will also be regency-era games.
"Whist was a very popular card game. It appears often in Jane Austen novels. There will be whist playing in the back. There will also be nine-pins, which was akin to bowling today, but just smaller little wooden pins, kind of like lawn bowling. We'll have that in the back as well for entertainment."
For an extra fee, there is also a fortune teller available. Fortune telling was very popular at parties. However, this fortune teller won't be Mr. Rochester dressing up trying to understand Jane Eyre's psyche. This is an actual fortune teller who will be set up in the old bank vault inside Skyview.
There will also be an exhibit in one of the backrooms that will showcase historical clothes, educational banners and military uniforms.
For Russsell, this event will also host a personal moment for her.
"I'll be giving a toast to Lafayette. I will also be giving a toast to my son who turns 19 that same weekend," she said. "Lafayette was 19 when he joined our forces during the Revolutionary War. It'll be sort of a toast to the heroics and energy of youth in general. I'll be giving a toast to the military and veterans. I'm honoring Lafayette as a military veteran, but also, of course, Fayetteville."
Tickets start at $95 (Gentry Level) and go up from there. Each level elevates your "social standing" and provides you with more included experiences.
The Gentry ticket includes a souvenir dance card for women and a souvenir event card for men, access to the selfie garden walk and a slice of the birthday cake during the toast to Lafayette.
The Baron/Baroness tickets, $145 each, includes seating at Peerage Tables, one free signature cocktail ticket, one free souvenir cockade or sandalwood fan, a tote bag, and such guests will be announced to the room upon arrival.
The Royalty tickets, $275 each, include exclusive seating at the Head Table (with the hostess, the Marquis, and other Royalty), assortment of tableside snacks, one free souvenir glass of choice, two free drink tickets and one free fortune telling session.
The Duke/Duchess tickets are sold out at the time of publication.
Extras that can be purchased at any level are professional photography, silhouette sketching, fortune telling and carriage rides.
The goal for Russell is to sell 150 tickets. At the time of the interview, 102 tickets have been sold.
It is recommended to attend in Regency era, or at least black-tie attire. While it may be too late to order a complete set of Regency ball gowns, inspiration can be taken from the silhouettes. Russell has created an entire guide on her website about how to put together a "regency-inspired" look. She also has guides on how to do hair for the time period, how to play card games, and what types of dances to expect. To be in-the-know before the event, her website, The Lafayette Ball (beespokevintage.com, has all of the information.
Russell hopes people can enjoy the event, not just as a historical moment, but to experience another way of having fun. She hopes to plan more historical reenactments like these in the future.
"I plan to put on some other events in the future and changing up the time frame each year so that there will be something a little different each time. Maybe we'll do a repeat of this one if people really like this, since Fayetteville is named after Lafayette and it's his birthday every year."
After planning this event, Russell tells Up & Coming Weekly that she has learned so much about the Fayetteville community and has loved being able to learn about the Lafayette Society, the local art scene, and the many resources available here.
"I'm really excited about having people come here and experience this …people who already live here who haven't really gotten into all of the cool things we're putting on," Russell said.
"I want [people] to walk away and be like, 'that was really cool. I would never have thought that would have been so fun.'"
The ball will take place on Sept. 9 at the Skyview on Hay Street. Tickets can be purchased at Lafayettes Grand Birthday Ball and Soiree Tickets, SkyView on Hay, Fayetteville, September 9, 2023. Lafayette's Grand Birthday Ball and Soiree https://allevents.in/fayetteville/