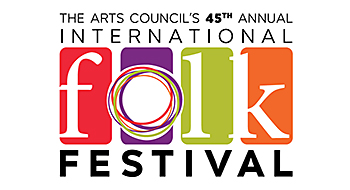 Fayetteville's International Folk Festival will be infused with cultural based foods, music, art and more for the 45th annual event that goes from September 22 to 24.
According to Robert C. Pinson, President/CEO of The Arts Council of Fayetteville | Cumberland County, the mission of the festival is to celebrate the diversity of our community. He said that everyone is human and, although we may appear different, we are still people with both happiness and sadness in our lives.
"The festival also reminds us that we 're always stronger when we work together," Pinson said.
Pinson has been living in Fayetteville for 34 years and he remembers when the festival used to be a six hour festival with arts and crafts, food and the international parade. He said it used to be held on Sundays from noon to 6 p.m. and after church, people would take their families to the festival.
Even though Pinson has been in Fayetteville since the 80s, he's been working the festival in different roles since 2011.
Military Influence
Pinson highlighted that over the last 80 years, America has been involved in different wars or conflicts where American soldiers married women from different cultures or racial groups and settled in America. He said many American soldiers of World War II did this.
Pinson said over the last 45 years of the festival, many of the World War II veterans and their families have marched in the International Folk Festival's parade representing many European countries.
"As a country, over the last 20 years, we've been in the Middle East and you see their cultures now in our community and in the festival's parade," he said.
Because of this, in recent years he's seen Lebanon, Israel, Iraq and Egypt represented in the parade. He also noted that the top three languages spoken in Fayetteville are English, Spanish and Arabic.
Cultural Identity
There are so many people in the area that are first or second generation Americans, and the goal is to ensure that their cultural identity is still intact.
He added many may have been raised in a different country, but they have children now and they can educate the children on their native country and culture at the festival.
Pinson said as the generations go on, there should not be an erasure of identity.
"We hope that with a festival this educational, cultural learning is not just seen through the three-day festival, but to continue that dialogue, bond and work together," he said. "That's what our world and local community needs."
Pinson also said this is the longest running festival in Fayetteville that is arts and family focused.
The Food
While there will be vendors out there for cotton candy or drinks, the different food samplings from other countries are a hit.
Pinson said many cultural groups in the city are typically nonprofits that are integral to the festival. He said because of this there have been many citizens of the area that have "grandma's recipe" as the food offerings. One of his examples is meals from Thailand being served where the Fayetteville citizen from Thailand still remembers their family's recipe.
He said for many years folks have asked for an International Folk Festival cookbook.
Pinson joked, "People won't release grandma's recipe."
Pinson said the attendees have asked for smaller portions of food. Because the different international food stations give such a large portion of food, attendees felt they could only sample one or two international food stations.
With the smaller portions, Pinson said attendees should be able to sample three or four cultural dishes in an afternoon.
The Arts
This would not be an Arts Council festival without the arts infused in the festival. There will be arts and crafts at the festival, large art, live art and a Kids World of Wonder. This latter entertainment opportunity may include character appearances and strolling performers like a magician, a mime and international storytelling like Japanese, Latino, African and Native American stories.
To engage the public, the Earthball will be featured in front of the Arts Council Building. According to Pinson, the 16 foot Earthball obtains the youths' attention.
Speaking of spherical objects, there will be a hot air balloon on site September 23 and 24 from 5 p.m. to 7 p.m. The tethered hot air balloon has limited rides, but throughout the festival there will be raffles for people to get free rides. The balloon does not fly over the city, but does leave the ground.
Arts Council Information
From the Council's website: "Founded in 1973, the Arts Council of Fayetteville | Cumberland County has served as a link between artists, arts and cultural organizations, and the greater community by administering programs in partnership with a variety of local agencies to help advance community and economic growth, stimulate tourism, reinforce child education through the ARTS, and enhance the cultural identity of the arts and entertainment district."
For more information and a schedule of events, visit www.wearethearts.com/iff2023.