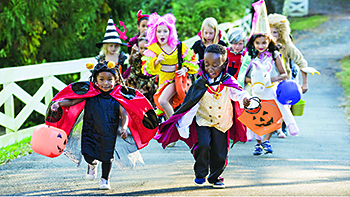 Halloween is celebrated in various countries.
Halloween can trace its origins to Ireland and is based on the ancient Celtic festival of Samhain, during which people would light bonfires and wear costumes to ward off spirits.
Halloween has since become a day to play pranks and don costumes while going door-to-door seeking treats from neighbors.
Each year, the National Retail Federation tracks Halloween trends. The figures and statistics shared by the NRF and other organizations paint a picture of just how popular Halloween can be.
Consumers will spend an estimated $9 billion on Halloween. The average American will spend $86.79 on the festivities, according to the NRF.
The U.S. Census Bureau indicates that there are 41.1 million potential trick-or-treaters aged 5 to 14.
Ninety-five percent of people surveyed by the NRF planned to purchase candy for Halloween. The next most popular purchase is decorations (74 percent).
Forty-five percent of respondents planned to carve a pumpkin for Halloween, says the NRF.
In Canada, there are 2,569 farms with pumpkin patches, according to the 2016 Census of Agriculture.
The top-ranked costumes for children in 2018 were princess and superhero. Adults planning to dress up were more likely to go as a witch or a vampire.
Data from domestic box office earnings of horror movies in 2018 totaled $752.2 million. This accounts for movie earnings in the United States, Canada, Puerto Rico, and Guam. "A Quiet Place" and "Halloween" were the top-grossing horror flicks of the year.
The ubiquitous "pumpkin spice" starts to turn up in various products as soon as there are hints of autumn. Nielsen says $6.9 million was spent on pumpkin spice products in 2018.
Candy corn is either loved or loathed. According to the National Confectioners Association, 42.7 percent of people who enjoy candy corn say they eat the narrow white part of the candy corn first.
The NRF states that, when looking for their ideal costumes, 33 percent of consumers will check online first, followed closely by 29 percent in stores.
Pet costumes remain incredibly popular. Prosper Insights, a marketing and analytics company states that 31.2 million Americans plan to dress up their pets, with millennials being the largest demographic to do so.
There are potentially 120 million stops for trick-or-treaters to visit in the United States, based on data from the U.S. Census Bureau.
The Manufacturing and Wholesale Trade Division in Canada says that there were 158 businesses engaged in formal wear and costume rentals in Canada in 2017.
Halloween is frighteningly popular, with scores of people taking part in the spending and antics of this entertaining day.