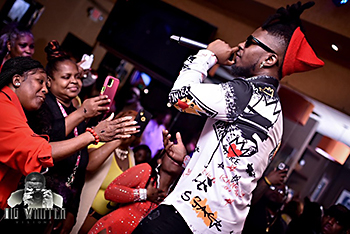 Blues and southern soul fans should mark their calendars for Nov.4, when the Crown Theatre will host The Ville City Blues Festival, where The Blues Is Alright Tour will make a stop.
When people think of blues and southern soul music, they might think of Mel Waiters, Johnnie Taylor or Marvin Sease. A new generation of artists is providing the musical storytelling synonymous with blues and southern soul, a genre of music known for turning heartache into music to feed the soul.
J-Wonn, slated to appear at the Crown Theatre, pronounces his name "Jay-One." He is from Jackson, Mississippi, and began creating blues and southern soul music in 2014. Since then, he has won awards, and his music is available for streaming on all music platforms.
J-Wonn has high praise for his blues and southern soul tour experience.
"The tour is amazing. I've had the privilege to watch the tour ever since I came into the game of blues and southern soul. Now that I'm a part of it, being one of the acts on the tour —it's an amazing experience," he said.
J-Wonn has only good things to say about the tour. He described the production as the best of the best — best sound, best lighting and best promoters to be working for the best fans.
"When we're talking about blues and southern soul, it doesn't get no bigger than the Blues is Alright Tour," he explained. "The thing about being on this tour — now I have higher expectations ... because the Blues is Alright Tour set the bar so high," J-Wonn said.
J-Wonn began singing around the age of 10. He was a member of multiple choirs in his youth. As a teenager, he was the lead vocalist in a hip-hop group. This role led J-Wonn to Tracy Way, the father of Soulja Boy. Soulja Boy is a rap artist and record producer who gained recognition after releasing his debut album in 2007.
J-Wonn signed an artist development deal with Way in 2008. J-Wonn explains that this was significant because the music business was changing so much due to online resources like Myspace and YouTube.
"I was able to learn so much, being locked in with a guy who was the first artist to blow up from YouTube. I learned so much being around him," J-Wonn said.
He feels blues is still a relevant genre. Blues is the birth of a lot of music — like rap. A rap beat is where people can hear a blues bass line, explained J-Wonn.
When he first started in the blues and southern soul genre, mentors guided J-Wohnn. Tours were a learning experience; they all learned from one another. Being aware of other artists within the industry allows for teachable moments and growth.
"If you don't stay aware of the next person, you'll get scooted over," he said. "Stay up on your game because the sounds are changing. Change your producers. You have to be more creative nowadays."
One of the people J-Wonn looked up to when he first got into blues and southern soul was Mel Waiters, who coached J-Wonn on how to make effective deals in the industry. They even created music together.
"When I came in, there were no young faces. Just me," he said. Many musicians were at least a decade older than him. Now, more young artists, including King George and Jay Morris, have embraced the genre.
The Blues is Alright Tour will be at the Crown Theatre on Nov. 4 at 7 p.m. Performers will include King George, Tucka, Calvin Richardson, Pokey Bear, Theodis Ealey and J-Wonn.