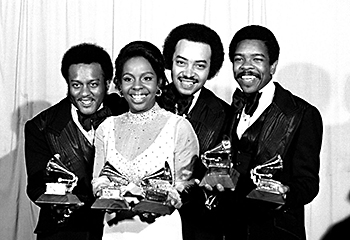 Gladys Knight's musical influence has been embedded in the DNA of many genres of music for generations. Just after 11 years, The Empress of Soul will be making her return to Fayetteville with the 88th Season of Community Concert Series on Nov. 10 at the Crown Complex.
Her discography and list of accomplishments is nothing short of amazing. Her most recent honorary award was given in 2022 by President Joe Biden in Washington D.C. The award is called The Kennedy Center Honors, an annual award given to those in the performing arts field for their lifetime accomplishments.
The legendary vocalist, singer, songwriter and actress has been able to hold her value and super star status since the 1950's. Rolling Stone magazine placed her in their Greatest Singers of All-Time list, another highlight to her already impressive career. On her interview with Sway in the Morning back in 2015, she credits her longevity with her ability to adjust with the times and appreciating music from different genres at a young age.
Gladys Knight has also been able to take her talents to the big screen on several occasions, besides her early vocal performances, she made her debut on "The Muppet Show" in 1981 as a guest. Since then she's appeared on shows such as "Charlie & Co.", "The Jamie Foxx Show," "The First Family," and many more. She even made an appearance on "Dancing with the Stars" in 2012.
She's won seven Grammy awards but has been nominated for 22 over the course of her career, both solo and with the Pips, landing her in the Grammy Hall of Fame for her musical significance and value. Her success as a vocalist and songwriter with the Pips has also placed her in the Rock and Roll Hall of Fame, and the Vocal Group Hall of Fame.
Gladys Knight was born in Atlanta, Georgia on May 28, 1944. She's been singing for 75 years with her journey beginning at the age of four.
With the support and nurturing of her parents, she crafted her vocal abilities early with singing in the choir and talent shows around the city of Atlanta. After winning a TV show contest on "Ted Mack's Amateur Hour," her mother Elizabeth Knight urged her and her relatives to form the group Gladys Knight and the Pips, and shortly after they were on their way to stardom.
Gladys Knight & the Pips were a family music group that made hits in rhythm and blues, soul, funk and pop from the 1950's through the 1980's. The group originally consisted of Gladys Knight, her brother Merald Knight, sister Brenda Knight and cousins Eleanor and William Guest. They started off as just the Pips, named after their cousin James "Pip" Woods. After a rocky start in the late 50's, trying to get a big single off Brunswick Records, Brenda Knight and Eleanor Guest left the group. During these times, the group was still getting recognition while performing for big R&B acts like Jackie Wilson and Sam Cooke.
The group re-united shortly after and recruited their cousin Edward Patten and family friend Langston George to form Gladys Knight and the Pips. The illustrious group stayed active, on and off, from 1960 to 1987. They made their mark on legendary record labels like Motown records, Buddah Records, Columbia Records, and MCA Records until Gladys decided to pursue a solo career.
They had early hits like "Every Beat of My Heart," "Heard it through the Grapevine" that was later sung by Marvin Gaye, and "Midnight Train to Georgia." As a group they had a total of 22 singles reach the Top 20 Billboard charts, with several reaching number one. They also released over 20 albums as a group, winning three Grammy's together and 7 American Music Awards.
As Gladys Knight pursued her solo career towards the late 80's she began her journey on the biggest stages possible and has done some of the most Iconic performances around the world. She performed at the opening ceremony for the 2002 Winter Olympics in Salt Lake City and sang the National Anthem for the Superbowl in 2019 with many other incredible performances in between.
To still be a master of her craft and grace stages around the country at almost 80 years old is a remarkable accomplishment. After a stop here in Fayetteville, she'll be on tour in the States until late February of 2024. Beginning in June, she'll be making her way to The Netherlands and the United Kingdom for show dates during the months of June and July of 2024.
To learn more about the incredible life of Gladys Knight and to keep up with her tour dates, visit Gladysknight.com. To catch her live in Fayetteville for the Community Concert Series, tickets are on sale for the Friday, Nov. 10 show at ticketmaster.com. Don't miss a once-in-a-lifetime opportunity to see this legendary performer give a show of a lifetime.