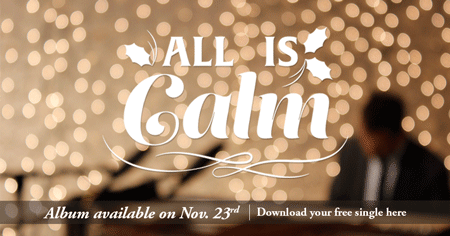 Manna Church is an exceptionally large church with 8,500 members and five locations. However, the leadership there still manages to create an engaging and personal environment to grow spiritually and worship God among friends. Manna Church is also known for being creative in their services. They bring a fresh passion and joy to a rich religious tradition.
New this year is the Christmas Eve service. Manna Church has hosted Christmas Eve Services every year, of course. This year it will be accompanied by the new album All is Calm. "We have been working on the album since 2013. At first, the album wasn't intended for the service but as we got closer we thought, wouldn't it be great if we finished the album and used it to support a service," said Chris Fletcher, the creative director and worship pastor at Manna Church's Cliffdale site.
The album is traditional Christmas music that is a product of the five campus worship leaders who both sing and play instruments. Fletcher said, "They are our own arrangements, but we put our own spin on them. They are very stripped down renditions. Manna tends towards more modern and contemporary styles but this isn't typical for Manna. There won't be any electric guitars on stage, it will be more acoustic. They are stripped down and keep to the essence of the song but we make it calmer with a traditional feel."
All five locations of Manna Church will host the Christmas Eve "All is Calm" service. While the album itself is a fantastic celebration of the holiday season, when it is used to support a beautiful Christmas Eve service the experience is deeply moving and uniquely peaceful. "Amidst the Christmas season when we sing all these songs like "Silent Night" I can't think of a Christmas season when I was well rested. It has turned into a busy and restless season, so we wanted our service to center on calmness and the beautiful gift that has been given. This is a more traditional service, not really what is expected from Manna," Fletcher explained.
All of the work that these passionate people put into special services and albums is a labor of love and for Fletcher it is supremely rewarding, "Seeing people take something that I helped with creatively and use it to give worship is very rewarding. None of the worship leaders are making a dime from this; it all goes to support Manna. To see people get behind the music and sing and give thanks and give him (God) the praise he deserves in this time and make that connection is most rewarding."
Manna is also having a series of Christmas movie themed services called Christmas at the Movies. This is a popular series of services that take classic Christmas movies and use them to teach lessons. They play clips of the movies and then discuss the truths that they demonstrate.
The All is Calm Christmas Eve service is on Dec. 24, at the Cliffdale Site on 5117 Cliffdale Rd. at 3 p.m., 5 p.m., and 7 p.m. The Hope Mills site located at 3744 Legion Rd will have one service at 5 p.m. The Executive Place site located at 630 Executive Place will have a service at 5p.m., and the Methodist University site in Reeves Auditorium at 5400 Ramsey St. on the Methodist University campus will also have one service at 5p.m. For more information visit www.mannachurch.org or call 910-867-9151.