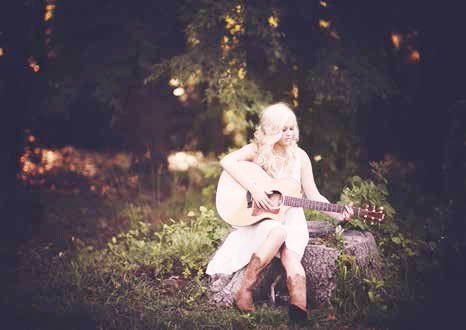 Avery Hurt got her first guitar when she was 10 years old. It was a gift from her grandfather Wayne Canady, who is also a musician. At the time, Hurt didn't think a lot about the guitar. But in the ensuing years, that guitar became very important to her.
Shortly after receiving the guitar, Hurt's father, Master Sgt. David Hurt, a Green Beret with the 3rd Special Forces Group (Airborne), was killed in action while deployed to Afghanistan. As Hurt struggled to find a way to deal with her grief, she turned to the guitar and used it and the songs that she wrote as an outlet for her grief.
"I was really very bad at expressing myself at that time," said Hurt. "Music became my outlet. I didn't play for anyone else. I would just go up to my room and play and work out how I felt."
For several years, it was something she did just for herself but as her confidence grew, her mother, Kelly, let the cat out of the bag.
"Our church's youth pastor started talking about putting a band together to play for the youth group," recalled Kelly Hurt. "I told him that Avery could play and that maybe if he asked her, she would help out."
The younger Hurt took that first step and started playing with the worship band on a weekly basis and she started writing more songs. She also put in extra work in school, and graduated from high school at the age of 16. With a plan to take on Nashville, Hurt wants to attend Belmont University.
Both she and her mom agreed that it would be better for her to wait until she turned 18 before heading to Nashville, which is giving her time to work on her music. To that end, her cousin, Lisa Ness, introduced her to Gary Fisher of Elderock Music, who was looking for someone to open Warrior Jam. Fisher saw Hurt's potential and started booking her at live-music venues around the community.
Hurt has several venues she plays each month including 22 Kliks in Hope Mills, the Sandtrap and the Creek Bar and Grill in Gray's Creek, the community in which she was raised. She also plays special events, weddings and other social events. Most recently, she played a fundraiser at the Creek to raise funds for her friend Josh Durden, a freshman at Gray's Creek High School who is undergoing treatment for bone cancer. She plays an eclectic selection from country to Taylor Swift pop to Rehab to her own songs.
"I really would love to play somewhere every night," she said.
On Friday, Jan. 9, she will play during half time at the Faytteville FireAntz Military Appreciation Night. If you catch her at one of her gigs, you will immediately know what keeps her grounded and moving in the right direction. Sharing the stage with Avery is her grandfather who plays the drums. Her mom and numerous cousins are in the audience. For Hurt, music is definitely a family thing.
Photo: Avery Hurt, a 17-year-old Cumberland County resident, is making her mark on the Fayetteville music scene.