The Fayetteville FireAntz have been lighting it up on the ice over the past month and a half, winning 10 of their last 15 games. After an off-season filled with a tremendous amount of time spent recruiting by head coach Emery Olauson, the Antz endured a slow start to the 2014-2015 season. But there was never a doubt in the minds of Olauson and his locker room.
"This team has faced a ton of adversity since the start of the season in October," said Olauson.
When asked about three of his goalies already being called up this season Olauson noted, "Although it's a scramble to find goalies mid-season, ultimately, we are a developmental league trying to progress players to the next level."
Olauson takes pride in the talent he's brought to Fayetteville this season and is passionate about developing the skills of his players. Every player on the roster has a role that is vital to the team's overall success. Sometimes, it takes a tough guy willing to get his hands dirty … or cut … or bruised, whichever they prefer — a tough guy, a guy who's got a teammate's back no matter what or who stands in the way.
That's the kind of role that #13 Rookie Brad Drobot plays in the Antz lineup. Through 26 games, Drobot has recorded 93 penalty minutes with 11 major penalties, the most by any rookie in the league in both statistics.
Readers might think — a tough guy with a big beard and hands like a bear, must be crazy off of the ice, too. That's not the case, even the slightest bit. Drobot was born and raised in Calgary Alberta, Canada, developing a passion for hockey at the young age of 5. With parents who run their own business, Drobot comes from a family where hard work is no stranger. Drobot looks up to his parents, appreciating the work ethic they've instilled in him. Since he's been in Fayetteville, Drobot has had the opportunity to give back to the community and says the food drive this past December was "… an amazing experience to help people in need during the holidays."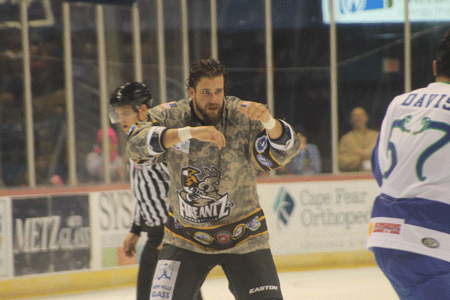 When asked about his favorite on-ice experience in Fayetteville, he was quick to reply "… saluting the crowd after my fight on Military Night."
What does it take to prepare for such a night? For Drobot, a good morning of practice followed by a rather large plate of spaghetti and meat sauce, topped with a little one hour snooze, will get him ready to dish out some major punishment come game time. His roommate is teammate Tim Recio, who Drobot says "… sings way too loud in the shower but has the voice of an angel."
Drobot hopes to continue playing professional hockey as long as he can. In the off-season, he enjoys off ice training and is a bouncer at a night club.
Photo: top left; Brad Drobot. Bottom right; Rookie Brad Drobot mixes it up on the ice during Military Appreciation night. Drobot leads the league in penalty minutes (93) and major penalties (11).