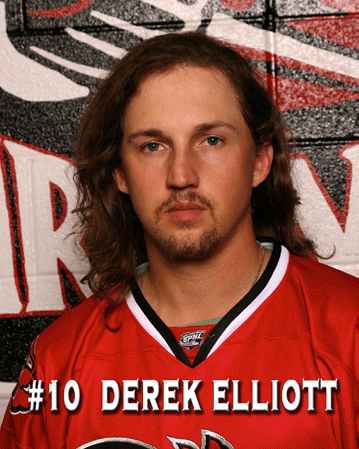 FireAntz team captain Derek Elliott is having another stellar season on the ice. Elliott, in his third professional season, has recorded 24 points on 10 goals and 14 assists through 35 games.
The Iowa native began skating at 3 years old and just two years later, his passion for hockey was born. Elliott's love for sports developed at an early age, playing every sport his older brother Jamie played. Elliott has always looked up to his brother and his passion for sports.
Elliott's passion for hockey led him to play for the Des Moines Buccaneers of the USHL from 2005 to 2008. He then went on to play at Mercyhurst College from 2008 to 2012.
Elliott began his professional career with the FireAntz in 2012 earning All Rookie Team Honors, leading the league in plus minus (+25), recording 42 points on 17 goals and 25 assists. That season was Elliott's most memorable and best experience playing in Fayetteville.
In preparation for a night's work on the ice, Elliott starts his day with a morning skate, followed by a pasta lunch and an afternoon nap. Upon arriving at the Crown a few hours prior to puck drop, he preps his sticks with some fresh tape and receives any needed treatment in the training room.
Elliott enjoys giving back to the Fayetteville community especially during the holidays, saying that "the Heart of Carolina food drive we do every year is my favorite."
Whether he's playing hockey, ping pong, golf or riding a bike or climbing, Elliott's sweet feet, lightning-quick hand-eye coordination, endurance and calm demeanor combine for a lethal competitive edge over his opposition. Elliott, a very talented golfer, is eager to start his PGA apprenticeship and earn his teaching certificate for a career in the golf industry once his hockey career is in the books.
Elliott's favorite golf course in Fayetteville is King's Grant. In the off season he enjoys working at a golf course back home and riding bicycles, which take up most of his time in the summer.
Fast Facts About Derek Elliott
Roommate:Corey Toy
Favorite Restaurant in Fayetteville: Shogun
Favorite Sports Teams: Chicago Cubs and Blackhawks
Excels at:Taking long afternoon naps
Favorite Sports Teams: Rudy
Photo: Derek Elliott, the FireAntz Team Captain has scored 24 points on 10 goals and 14 assists.