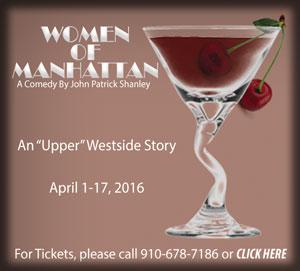 True love can be hard to find. Some people are hopeless romantics who want the fairytale while others end up living a nightmare. But the key is to not let a bad relationship stop you from giving someone else a chance because there is someone who will eventually realize that you are a pot of gold.
The Gilbert Theater presents Women of Manhattan from April 1-17. The play is a comedy by John Patrick Shanley. Jeremy Fiebig is the director of the play.
"We are kind of doing it as a Sex in the City tale," said Robyne Parrish, artistic director of the Gilbert Theater. "It is all about women and there are a couple of guys in the show, but it is mainly about women and their relationships with men and the struggles they go through living in the big city of Manhattan."
Parrish added that they are three girlfriends who have been friends since college and work together through the trials and tribulations of life with each other and the men they are in relationships with.
Billie is the only married woman in the play. She is in a marriage that is going south. There are two single women, Rhonda Louise and Judy, in the play. Rhonda Louise has trouble letting go of her former relationship. She is having trouble getting out and back into the dating world. Judy has her own set of problems. She cannot seem to meet the right kind of man. The characters are played by Nicki Hart, Loston Riser and Vera Varlamov. Jamale Johnson is playing the character Duke and Grant Harris will play Billie's husband.
"Every female on the planet will identify with the struggles of these women," said Parrish. "They are a good group of women in different places in their lives and have had several relationships dealing with different issues."
Parrish added that a lot of the festivities are around drinking so the women go out on the town and meet at the House of Margaritas.
"We encourage everyone to come and see this play," said Parrish. "It is funny and it is an opportunity for people to see themselves in these women."
For more information or to purchase tickets call 678-7186.