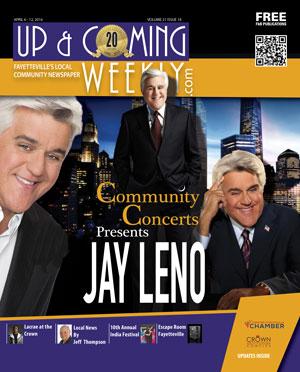 This year, Community Concerts celebrates 80 years of music, fun and entertainment. It's been a stellar season thus far with performances by Daryl Hall and John Oates, Peter Cetera and Boyz II Men. On April 15, funnyman Jay Leno takes the stage at the Crown Theatre to close out
the season.
"He's a legend," said Community Concerts Attractions Director Michael Fleishman. "He puts on an excellent show."
A longtime late night TV host, Leno has not slowed down a bit since leaving The Tonight Show with Jay Leno. In fact, he has an Emmy Award winning webshow called Jay Leno's Garage. Here he shares his love of cars and gives reviews, compares cars
and more.
Never one to sit still, Leno stays busy traveling, writing children's books, performing and supporting his favorite causes. He's served as Master of Ceremonies for causes supporting those affected by 9/11, the Tsunami in Thailand, hurricanes in the Gulf and more. Every year, Leno leads the Love Ride in California, which benefits humanitarian organizations that serve people with autism and muscular dystrophy as well as athletes who compete in the Special Olympics.
While Community Concerts' season performances don't usually have an opening act, the audience is in for an extra treat at this show. "We added an opening act — Emily West. She's from Nashville and was finalist on season 9 of America's Got Talent," said Fleishman. "She won the crowd over with covers she does, one of them is a song from The Wizard of Oz."
Fleishman was looking to add a musical element to the show and knew he had the right act when he heard West.
"She is great. She will do a show for about 30 minutes as an opener. She's worked with Jay before and he loves her."
Community Concerts went all out this year choosing to bring fewer shows but bigger names to the community. It was a calculated move but one that the organization felt was right. "We had fewer shows this year, but actually spent more," said Fleishman. "This has been a really good season."
While he wouldn't commit to a specific number of performances for next season, Fleishman added, "We always want to keep it fresh and we are actively working on next year's program. We want to bring the best artists we can to Fayetteville."
Offering top-notch entertainment to the community is the Community Concerts mission — and it's something the organization does exceedingly well. What drives this all-volunteer group is their love for the community. Since 2008, every season, Community Concerts inducts a person or group into the Fayetteville Music Hall of Fame. With such a talented and diverse community, it just made sense to honor those who make the Fayetteville music community stronger.
Previous Hall of Fame inductees include Charlotte Blume, owner of Charlotte Blume School of Dance; Laura Stevens, founder and director of Voices of the Heart; jazz educator and performer Malachi Sharpe; and the 82nd Airborne Division's All-American Chorus.
This year Community Concerts chose to honor three people. The inductees were announced at the Boys II Men concert on March 11. Fouad Fakhouri is a composer and the conductor for the Fayetteville Symphony Orchestra. This is Fakhouri's last season with the FSO. "He has done a lot for Fayetteville and the symphony,"
said Fleishman.
Doyle Wood owns Daxwood Productions and joined Fakhouri as an inductee. "He's a singer and a songwriter and a producer. He has produced more than 1,000 songs,"
said Fleishman.
Lynne Robertson O'Quinn was the third inductee.
"She has worked with Wood for almost 30 years," said Fleishman. "She has helped him on lyrics for songs he's done. They did a song called 'Stand Proud,' which is being used at military ceremonies and as a tribute to the armed forces. They also worked on 'Our Hometown,' which is played a lot locally and is an homage Fayetteville."
Always looking to encourage new musicians, Community Concerts also awards college scholarships to local students. The program was founded in 2004. Since its inception, the organization has awarded 24 scholarships.
Another way that Community Concerts supports local musicians is through its local artist showcase. This program is designed to build community involvement and music awareness. In the past, local groups performed at shows during the Community Concerts Season. Voices of the Heart opened for Gladys Knight and students from Linda Kinlaw's School of Dance performed during Martina McBride's show. Local country music artist Trae Edwards performed at the Ricky Skaggs show.
Community Concerts believes in the power of music and strives to make music available to everyone. The organization provides free concert opportunities to different groups including children and seniors. The Vision Resource Center, Urban Ministry, The Sunshine Center, members of local fire and police departments, high school theater art classes, members of our military and many others have benefited from this program.
To find out more about Community Concerts or to purchase ticket to see Jay Leno at the Crown, visit www.community-concerts.com or call 888.267.6208.