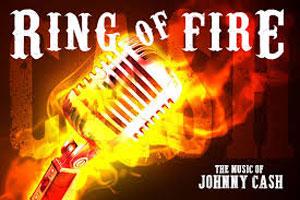 I must make one caveat before I begin this review. I love the music of Johnny Cash. I learned a lot of it as a small child riding in the truck with my Dad — who also loved the music of Johnny Cash. That being the case, I will admit that I have been looking forward to this show since the Cape Fear Regional Theatre announced it's season. This could be a very good thing for the CFRT or a very bad thing.
I'm happy to say, it was a very, very good thing.
Ring of Fire: The Music of Johnny Cash is just what the title says. It is a musical walk through and celebration of the Man in Black; his struggles, his victory and most importantly, his music. And it is the music and the musicians who were cast in the show who truly make it a must see.
At the helm of the production is the Cape Fear Regional Theatre's Founding Artistic Director Bo Thorp. Baxter Clement, who also portrayed Johnny, is the musical director. The two, who have collaborated in the past, pulled together an outstanding cast and brought a stellar show to the stage.
As mentioned in our preview, the show you will see when you buy your tickets (and you really want to buy tickets for this show) is not the show you would have seen if you visited Broadway. There are no jazz hands, instead, you have a raw, honest look at Johnny Cash — warts and all. Thorp and the talented cast changed up the show. They became intimate with Cash's life and told the story in a simple, honest manner.
They also knocked it out of the park.
Clement, a Southern Pines guitar store owner by way of Broadway and stages and concert halls all over the world, is very believable in the role of Cash. Having seen him as Buddy Holly at a previous River Show, I kind of wondered if I could buy him as Johnny Cash — a much different musician than Holly. He pulled it off masterfully. The audience loved him.
Clement set the bar high for the rest of the cast, and they didn't disappoint. Malerie Goodman, a Fayetteville resident, was born and raised in Bakersville, California, the "honky tonk capital of the west," played June Carter Cash, who was more than Johnny's wife, she was his soul mate. Clement brought the playfulness that Carter Cash was known for to life, and gave a spirited performance.
Carolanne Marano, also of Southern Pines, is a professional dancer/actor. She not only choreographed the show, but also played the role of Johnny's mother. She high-stepped and sang her way into the audience's hearts. Of particular note was the breathtaking song she sang following the death of Johnny's brother. She rang every drop of sorrow from every note, and left me in tears. It was a magical moment on the stage.
Also creating a magical moment on the stage was the Cape Fear Regional's own Ken Griggs. Griggs is master of the stage, and in this show got a chance to show off his musical chops, playing a number of instruments and singing. His magic moment came near the end of the show when he performed Cash's patriotic "Old Ragged Flag." The song is really a spoken work, which Griggs brought passion and patriotic fervor to. Griggs, who retired from the military a little more than a year ago, has a passion for Soldiers and is a patriot. When he turned and saluted the flag ... well, what else can I say ... magic.
James Villone and Kendra Jo Brook amazed me by their diversity when it came to playing. Each changed instruments two to three times and mastered all of them. Villone, also of Southern Pines, plays multiple instruments and in fact teaches at Casino Guitars, Clement's store in Southern Pines. But he has earned his musical chops on stages all across the southeast performing solo or as a member of a country band. This was his first outing into musical theatre, but I hope it is not his last. Brook, a native of Montana, who came to the CFRT by way of New York City, fiddled her way into the hearts of CFRT patrons.
You have one more weekend to see this great show. It's one you don't want to miss!!