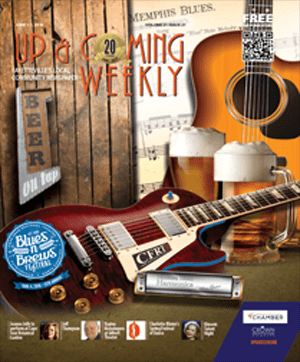 On Saturday, June 4, the hottest ticket in town returns to Festival Park – wailing blues and ice cold libations as the Blues-N-Brews Festival kicks off summer.
The Blues-N-Brews Festival, now in its 13th year, is the major annual fundraiser for the Cape Fear Regional Theatre. The CFRT's dedicated volunteers and staff know how to put on a show, and this year's Blues-N-Brews promises to be one for the books.
Co-chaired by Jenny deViere and Kelly Meyers, the event has grown again, adding some new things, but remaining true to what has made it such a success: A commitment to bringing the best craft beers and hottest blues to the community.
More than 100 beers are on tap, with some old favorites and a few new ones mixed in.
"We are really excited about adding Fainting Goat Brewery out of Holly Springs," said deViere. "They are brining a new beer called Bucked Up, which we think people are really going to like."
She noted that there is a very good mix of beers on tap, with brewers coming from across the state, as well as traditional beers like Guinness and Yuengling.
"We are finding that a lot of craft beers are distributed by big name beer distributors, so we are able to bring a really good mix of beers to the party," she explained.
Brewers participating in the event include: Abita Brewing Company, Anheuser Busch, Aviator Brewing Company, Blind Squirrel Brewery, Blue Moon Brewery, Blue Point Brewing Company, Bold Rock Hard Cider, Boulevard Brewing Company, Broken Barrel Brewery, Bull City Cider Works, Carolina Brewing Company, Constellation Brands, Crazy Mountain Brewing Company, Dirt Bag Ales, Empire Distributors of NC, Inc., Foothills Brewing Company, Goose Island Beer Company, Great Lakes Brewing, Green Man Brewery, Grupo Modelo Brewery, Hi Wire Brewing Company, Huske Hardware House, Left Coast Brewing & Lucky Buddha Jacob Leinenkugel Brewing Company, MillerCoors Brewing Company, Natty Greene's Brewing Company, , New Belgium Brewing Company, Oskar Blues Brewing Company, Railhouse Brewery, Resignation Brewery, Sierra Nevada Brewing Company, Sweetwater Brewery, Tenth and Blake Beer Company, The Mash House Brewing Company, Triangle Brewing Company, White Rabbit Brewing Company, White Street Brewing Company and Yuengling Brewing Company.
As always, you can expect some great food vendors to be on hand to satisfy your hunger throughout the event. This year's vendors include: Kinlaw's Fried Chicken, Hot Diggidy Dog, The Honey Baked Ham Café and Papa John's Pizza. Remember to bring cash with you, because while you can buy merchandise and your tickets with your plastic, you can only buy food with cash.
Speaking of merchandise, CFRT is offering a great variety of merchandise from event T-shirts and trucker hats.
"The T-shirts are really nice and a lot of fun and the trucker hats are going to go fast," said deViere.
Of course, the other big draw is the music. Main stage acts are Randy McAllister and the Scrappiest Band in the Mother Land and the Blues Doctors.
Randy McAllister is one of the premier singer, songwriter, multi-instrumentalists to emerge from Texas. Heartbreak, humor, high hair and tall Texas tales all play a part in his songwriting. His music has been hailed as original and innovative. While comparisons are not easy, it has been said that his music is a cross between Doug Sahm, John Hiatt and Delbert McClinton, with a blues man's background and sensibilities thrown into the mix.
Adam Gussow and Alan Gross, better known as The Blues Doctors, are a Mississippi-based blues combo that plays a mix of down-home Delta standards and urban grooves from the Texas-to-Chicago axis with some New Orleans funk thrown in. They're a two-man band with a full-on sound: Gussow on harmonica and drumset, Gross on guitar, with both men sharing vocal duties. Roosters Happy Hour, their debut album, spent many weeks in the #1 position on Amazon's "Hot New Releases in Acoustic Blues" chart and hit #10 on the Living Blues national radio airplay chart.
Gussow was dubbed "one of the world's finest blues harmonica players" according to Philadelphia blues DJ Jonny Meister and is best known for his 25-year partnership with Mississippi-born guitarist and one-man-band Sterling "Mr. Satan" Magee as the duo Satan and Adam. Gross's credits include a decade's work with Mississippi bluesman Terry "Harmonica" Bean and stints with hill country performers R.L. Boyce, Kenny Kimbrough, Lightning Malcolm and Eric Deaton.
Gusso and Gross were recommended for the gig by a patron of last year's Blues-N-Brews. According to deViere, one of the former attendees, who is a big blues fan, sent the organizers of the event a message on Facebook letting them know about Gussow and his great sound.
"We gave him a call and listened to his music and were blown away," said deViere.
The Blues Doctors are the opening act and will take the stage at 5 and play until 7 p.m., with McAllister and company playing until 9 p.m. when the event ends.
Attendees will also get a taste of Hedwig and the Angry Inch, the show currently playing at the theatre. When the festival ends at 9 p.m., attendees are invited to travel up the hill to watch the late-night showing of Hedwig at the CFRT.
"This is the only late night show, and we think it will be a lot of fun," said deViere.
In addition to the music and the brews, there are also a number of games that will entertain throughout the afternoon. The games section was added to the event two years ago and has continued to grow. Expect the traditional corn hole, beer pong and relay races, but this year, you can also look forward to bucket ball and life-size Jenga. Who wouldn't want to play that? Participants can win cool prize packs (including tickets to Hedwig) for winning at the games.
Anstead's Tobacco Company is returning as the premier sponsor of the event. In addition to a cigar bar, the company is bringing in cigar experts who can help people match their cigars to their brews and can provide education on cigars.
Those who want some extra perks can purchase VIP tickets, which include a private tasting, free eats provided by The Mash House, early entry at 4 p.m., judge the beer tasting contest, access to a private game area, private lawn and covered seating, complimentary Blues-N-Brews merchandise and unlimited open-beer tasting. VIP tickets are $75.
All attendees must purchase tickets. General admission is $35 in advance or $40 at the door. Non-drinking tickets are $15. While children are welcome, this is not a children's event and there are no children's activities. Those under the age of 18 must be accompanied by a parent at all times. Tickets can be purchased at the gate, but attendees are encouraged to purchase tickets early as they sell fast. Tickets are available for purchase at the CFRT Box Office Tuesday – Friday from 1-6 p.m. For more information, call 910.323.4233 or go by the CFRT at 1209 Hay Street.