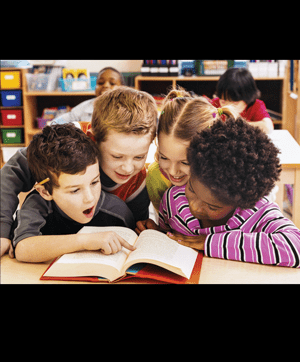 During the summer, it is easy to get caught up in fun outdoor adventures, camps and other activities. However, all that summer fun often means that mental exercise is neglected. Reading is a fun and effective way to keep the mind working so that all the knowledge from the previous school year doesn't vanish. Public libraries in the area focus on encouraging the entire family to keep reading during the summer with Summer Reading Programs. These programs have events, incentives and prizes to encourage the already rewarding activity.
The Cumberland County Public Library invites students to challenge themselves to read just as the Olympic athletes are challenging themselves to be their very best. Readers from birth through grade five can receive prizes for turning in their reading charts, which are filled out at home. Teens in grades 6-12 are also invited to challenge themselves to read this summer. There are also minute-to-win-it events that feature fun games like a life-sized Hungry-Hungry Hippo. There are also learning-focused activities like yoga and chess and fun prizes to win for participating. The summer fun doesn't have to stop there. Reading is important for all ages. "This year it's all about fitness and excercise and being active. We have a series called 'train like' and it looks at how to train like different things — an athlete, a ninja, a soldier. We have a lot of special guests coming in the teach kids about what it's like to do their job," said Selena Beckman-Harned, administrative program officer of community relations at the Cumberland County Public Library and Information Center. "I think it is a great opportunity for everyone in our community to learn more about what the library has to offer than just books."
The library is also offering an adult summer reading program to "exercise your mind." For more information, visit the following site: http://cumberland.lib.nc.libguides.com/src.
Fort Bragg also hosts a summer reading program at the Throckmorton Library. The staff wants to help children establish a lifelong habit of reading. This year's theme is "Read for the Win." It is a celebration of sports and achievement. Beginning June 1 readers can win prizes for the completion of reading logs. The program also includes some awesome events. On June 15, at 11 a.m., don't miss Team Spirit: Read for the Win Extravaganza. Wear your favorite team's shirt and enjoy an obstacle course and fun music. June 11 and 25 it's the 64 Squares: Learn to Play Chess from 1 p.m. until 3 p.m. Ages 6 and up can learn to play chess. Scaly Survivors on June 22 at 10 a.m. and 11 a.m. features live reptiles presented by the North Carolina Aquarium at Fort Fisher. Math Pirates takes place on Mondays at 10 a.m. Space is limited to 20 students per session, but it helps kids remember and retain math skills in a fun and exciting way. June 13 is for first graders. June 20 is for second graders. June 27 is for third graders. Young adults from ages 13 to 18 are also invited to come to School's Out, Now What? on Friday, June 24 at 2 p.m. This program helps students learn how to get involved in the community and offers programs to build a successful summer and a successful future. All events are free and open to the public. For more information visit: http://bragg.armymwr.com/us/bragg/ft-bragg-events/summer-reading-program?eID=499551.
Reading is a way to learn about any topic. It unlocks worlds of information and the libraries make it easy and affordable to find an interesting topic to explore. It is important not to let all the learning and hard work of the school year evaporate in the summer heat.