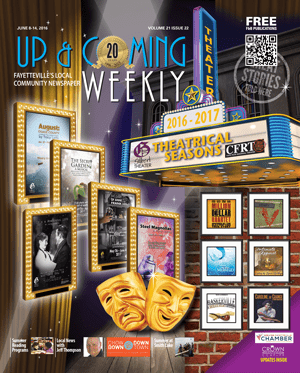 Gilbert Theater
Now in its third decade, Gilbert Theater offers a season filled with drama, tradition and history for 2016 and 2017.
Artistic Director Robyne Parrish is looking forward to what the season holds. "I would say this is our best season yet! I tried to chose something for everyone, while still keeping with the Gilbert tradition and mission to bring plays that are innovative and out of the box to the Fayetteville community," she said. "... As my fifth and final season, I look forward to this amazing line up and the directors and artists involved in making it a success."
The season opens with Steel Magnolias on Sept. 23. This play showcases the friendships of a small group of women in a small Louisiana town. The story is based on author Robert Harling's experience of his sister's death. The play will be directed by Robert Harling.
Gilbert Theater changed up the traditional Christmas production last year. Instead of Charles Dickens' A Christmas Carol, audiences turned out for It's a Wonderful Life by James Rogers. This year, It's a Wonderful Life returns Nov. 26-Dec. 18, directed by Robyne Parrish.
This play tells the story of George Baily. Family obligations and civic duties weigh heavily on Bailey and as he seeks escape from what he considers a mundane existence, his guardian angel visits him on Christmas Eve, giving Bailey a peek at what the world would have been like without him.
Jan. 27- Feb. 12, August Osage County takes the stage. When the family patriarch goes missing, family converges on the homestead in Osage County, Oklahoma. Frustration and weaknesses bring the family's disfunction bubbling to the surface as they wade through the crisis. Matt Bullock is set to direct the play.
Secret Garden opens on March 24 and runs through April 9. Eleven-year old Mary is orphaned. She is sent to live with relatives she's never met on a lonely estate. With the help of a young gardener, Mary blossoms, bringing new life to the estate as well as the garden and her relationships with her relatives.
The Diary of Anne Frank closes the season. From May 26 - June 4, relive the World War II experiences of Anne Frank and her family as they struggle to escape the Nazis. The Franks and another family share tight living quarters in an attic. Constant fear of discovery and certain death make for tense living arrangements. Brian Kline is set to direct the play.
For more information about Gilbert Theater and the other programs it offers, visit www.gilberttheater.com or by calling 678-7186.
Cape Fear Regional Theatre
Earlier this year, Fayetteville's Cape Fear Regional Theatre announced its 2016-2017 Season line-up. The season begins in September and runs through next May. This next season includes award winners and a classic up for its first run at CFRT. Theater-goers can also expect to see a mermaid, a hound and even the King and The Man In Black.
The season opens with Million Dollar Quartet, which runs from Sept. 15 – Oct. 2. The Tony Award-winning Broadway musical is inspired by the true story of the famed recording session where Sam Phillips, the "Father of Rock 'n' Roll" brought together icons Johnny Cash, Carl Perkins, Jerry Lee Lewis and Elvis Presley for one unforgettable night.
"Once more unto the breach, dear friends, once more," is a familiar line from Shakespeare's Henry V, which is scheduled to run Oct. 27 – Nov. 13. This legendary story takes center stage at CFRT for the very first time in a provocative production with contemporary resonances, said Tom Quaintance, CFRT Artistic Director. "This play has been set in many different times," he said. "It explains why we go to war with themes of exploring the different elements of leadership and war." In this drama, the young monarch is confronted by the ferocity of war and proves his worth as a man and king. He pursues the glories of his nation and his reign, but at a cost to his land, his subjects and his conscience.
The serious drama is followed by something on a lighter note as a special event performance of The Best Christmas Pageant Ever by Barbara Robinson will run at CFRT from Dec. 1-18. In the Christmas classic, a couple struggling to put on a church Christmas pageant is faced with casting the Herdman kids, who are feared by children and parents alike. The Herdmans bring mayhem, and some fun, as they collide with the Christmas story head on! The CFRT production has been a staple to Fayetteville's holiday season for more than 25 years.
Disney's The Little Mermaid will ring in 2017 with performances from Jan. 19 – Feb. 12.
In a magical kingdom beneath the sea, a young mermaid named Ariel longs to leave her ocean home to live in the world above. Based on the beloved Hans Christian Andersen story and the classic animated film, it is a love story for the ages.
Pulitzer Prize winner Lynn Nottage's Intimate Apparel is a moving and intimate story that confronts race and religion. It runs March 2–9. The play is the recipient of the American Theatre Critics and New York Drama Critics' Circle Awards for Best Play. In this drama, set in turn-of-the-century New York, Esther, a black seamstress, lives in a boarding house for women. Esther sews intimate apparel for clients who range from wealthy white patrons to prostitutes. Her skills and discretion are in demand. Over the years, Esther has managed to stuff money into her quilt, which she plans to use to open a beauty parlor where black women will be treated as well as white women.
"It is one of the best scripts I've seen in the last 15 years," said Quaintance. "In this story of a seamstress in New York City in 1905, the cut and color of one's dress, not to mention color of your skin, could determine who you could marry."
Next, get ready for a joyful, mischievous comedy thriller when Baskerville: A Sherlock Homes Mystery runs April 6-23. Quaintance said Sir Arthur Conan Doyle's timeless classic will come to life in this comedy about everyone's favorite detective solving his most notorious case. The play is from the acclaimed author of Lend Me A Tenor and The Three Musketeers.
To finish up the 2016-2017 season, CFRT takes us back to America in 1963, surrounded by the turmoil of the JFK assassination and the Civil Rights Movement for Caroline, Or Change, which runs May 11-28. In a Jewish household in Louisiana, a fragile but beautiful friendship develops between a divorced African-American maid and the family's 8-year-old son.
Virtually sung-through, in styles ranging from Motown to Yiddish Klezmer, this story brings together the incredible talents of Kushner (Angels in America) and Tesori (Thoroughly Modern Millie) to create a multi-Tony-nomination show that is about both major issues of the nation and personal issues of the household, and how they interact.
To purchase season tickets or individual tickets, call 910.323.4233 or buy online at www.cfrt.org. Discounts are available for seniors, military, students or groups of five or more.