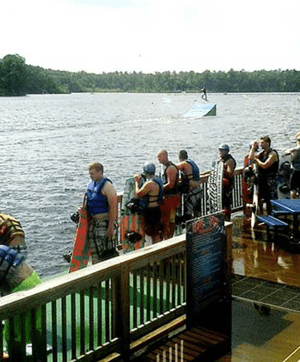 This summer the Smith Lake Recreation Area has numerous outdoor activities to offer the whole family. It can provide a safe and entertaining environment that can offer a change of pace from days at home or in the office. One such activity is the Beach and Wake Zone Cable Park, which is open to the public for the season until September 5. The Beach is a relaxing place to enjoy some sun and sand without the hours spent in the car to get there. Concessions are available for purchase and the water is tested weekly to ensure a safe and pleasant beach experience. The Wake Zone Cable Park is a water skiing system that allows new and professional wakeboarders to glide across smooth waters without the need for a boat. It is a state-of-the-art system that makes water sports available for all skill levels. The general entry fee is $10.
Movie Night Under the Stars is a free way to bring the wonder of the outdoors into summer vacation. On June 11 the movie scheduled is Big Hero 6. On August 13, it is Hotel Transylvania 2. In addition to these family-friendly movies, there will be door prize giveaways and concessions available for purchase. The gates open at 8 p.m. and the show starts at 9 p.m. Audience members are invited to bring blankets and chairs to make the viewing experience more comfortable. This event is open to the public.
For Department of Defense ID card holders and their guests, Smith Lake Recreation also offers an Outdoor Education Program. On June 11, Talon Tales features live birds that are native to the area. Experts explain what makes hawks and other birds of prey so incredible. July 9, the program is titled Snake Truths. Real live snakes will be available for audience members to meet and touch. August 6 is all about Skulls and Skins. This focuses on native wildlife and the animals' lifestyles. If you dare, check out the skulls and furs Smith Lake has on hand. There is no cost for this event and it begins at 11 a.m. These engaging and educational programs are thanks to a collaboration with the North Carolina State Parks. All of the animals presented are native to North Carolina.
DoD ID Card Holders and guests are also invited to Paint Night. June 16 is Adult Paint Night. Attendees 18 and up are invited to create their rendition of a tulip. Concessions will be available for purchase. For those 21 and over there is also beer and wine for sale. June 23 is Children Paint Night. The subject is an owl. This event is intended for children 10 years and older. Children under the age of 16 must be accompanied by a parent or guardian. Concessions will be available for purchase. The cost of participating is $35 per person. This fee includes a 16"x20" canvas, acrylic paints, brushes and a smock. Registration is required for this event.
For more information on all the events and opportunities through the Smith Lake Recreation Area, visit the following website: http://bragg.armymwr.com/us/bragg/ft-bragg-events/movie-night-under-stars?eID=466116.