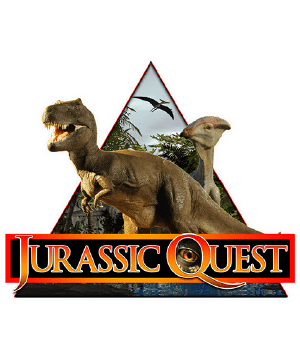 On July 9 and 10, Jurassic Quest comes to the Crown Complex. Both days, the exhibit opens at 9 a.m. and is open all day. This is not a performance in the traditional sense. It is really an experience. The Crown Complex will be filled with exhibits featuring realistic animatronic dinosaurs. These dinosaurs are ultra-realistic and life sized. This family-friendly event is perfect for any dinosaur enthusiast. But kids certainly don't have to love dinosaurs to love this exhibit. It is the closest anyone can come to really walking with dinosaurs. They leap off the pages of history books and move right before audiences. Visitors can even interact with the exhibits where entire realistic scenes are depicted in vivid detail. Jurassic Quest brings fun, history, learning and science together in one incredible day.
Cool exhibits are not the only dinosaur fun available at Jurassic Quest. According to Jurassic Quest, general admission includes, "Dinosaur exhibit, exhibit Tour, Dino Theater, Science Station, Dino Crafts, Dino Coloring Station, Baby Dino Interaction, Walking Dino Interaction, Touching real fossils and Games." There is enough fun to delight any kid and inspire a new love for the long-gone beasts. This is an interactive and fun peek back in time, which encourages learning and creativity in a more engaging way than the average museum. Reading about paleontologists just doesn't last as long as digging up a few bones yourself. Jurassic Quest brings history to life and creates life long memories of fun and ancient beasts come to life.
There are also VIP tickets for children, which are $27. As this event is intended for children, there are no VIP tickets for adults. This ticket option includes, "Everything in general admission plus: unlimited dinosaur rides, fossil digs, dino scooters, inflatables and a bungee pull," Jurassic Quest staff explained. However this does not include, face painting, which costs $5 for one side of the face and $10 to paint both sides of the face. Green Screen photos that place your family in a photo with a professional dinosaur background costs $10 for a 4x6 photo and $20 for a 6x8 photo.
All of the events are held inside the Crown Complex and customers are permitted to leave and return on the same day with a wristband or a hand stamp. One ticket can provide an entire day of entertainment and learning.
"It generally takes about three hours to experience the show. There are no show times. It is an interactive experience and customers move through the show at their own pace. Strollers are not a problem. Lines are generally shorter during the last three hours of the day. Customers with time constraints should come toward the end of the day," Jurassic Quest staff advised.
Adult tickets are $23 and general admission for kids is $18. No outside food or drink is permitted, but concessions will be sold. For more information of to purchase tickets visit www.crowncomplexnc.com/events/detail/jurassic-quest. They can also be purchased on site the day of the event.