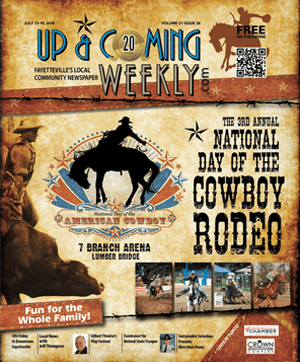 Celebrate the National Day of the Cowboy at a rodeo on July 22 and 23 at 7 Branch Farm in Lumber Bridge. This is the 3rd Annual National Day of the Cowboy at 7 Branch and looks to be the be a winner for participants and audiences alike. The National Day of the Cowboy celebrates the spirit of the west, the ruggedness and independence that made cowboys the icons we know and love. It celebrates the code that governed the wild west.
At 7 Branch Arena, every day is a day to celebrate the cowboy culture. Family owned and operated, 7 Branch started as an eight-acre plot of farmland that the children of Ron Payne purchased eight years ago for the sole purpose of converting into a horse farm. Today, the farm boasts 37 acres and is home to several events each year.
"I was involved in professional Team Roping and qualified for the National Finals of Team Roping three times," said Buddy Blackman, one of the owners. Blackman's own experience at rodeos helped shape the way the horse farm grew. "We decided to put in an arena at our farm. This idea grew into a full-size competition arena with bleachers and an 1,800 square foot arena and building including a lit parking area and water stations for competitors. We held our first official competition in 2012 and our first Rodeo in 2014. We were the first venue in North Carolina to hold a National Day of the Cowboy Rodeo."
Steeped in the rodeo and equine culture, Blackman grew up around horses. His family owned horses and he rode them as a child. By the time he was 18, he was riding bucking bulls and horses in professional rodeos. He loved the variety it added to his life.
"Participating in rodeos is adventurous; it allowed me to travel from state to state," said Blackman.
It turns out that hosting rodeos is also fun for Blackman. "Hosting and producing a rodeo is a lot of hard work that includes planning and coordinating with others to produce a wonderful event. The best part is when we finally get to the opening ceremony and the rodeo is underway," he said, but there are other things he loves about putting on a rodeo, too. "There are many favorites: the big crowd, watching the bull riders and the cowboy mounted shooting where an individual shoots a .45 caliber pistols at balloon targets on a pre-designed pattern. … and the wild bull riding is always the main attraction — a 2,000+ pound bull versus a 150-pound rider."
Whether this is old hat or a new experience, the events are lively and fast-paced are sure to keep the crowds entertained. The lineup includes rodeo standards like barrel racing, team roping, cowboy mounted shooting, bull riding and trick riding. Blackman expects a crowd of 1,500 to 2,000 people and suggests coming early. "Gates open at 5 p.m.," he said. "We will have several vendors of food, information and plenty of activities to see and do. The show starts at 8 p.m. Based on previous events, there is always a long line at the ticket window at 8 p.m."
This is Leslie Reed's second year trick riding at 7 Branch's National Day of the Cowboy Rodeo. She and her trick riding partner, Lori Chaney, have been riding together since 2011. "We ride together about once a month at different events and it is a lot of fun," said Reed. "I like the adrenaline rush. Our horses go fast and there is a lot of trust involved. You have to really know and trust your horse. The crowds like our show because it is fast paced and high energy."
7 Branch hosts several events throughout the year, but the National Day of the Cowboy Rodeo is a special one for Blackman because this event is not only a great time, it is also a fundraiser for three charities: the Lumber Bridge Fire Department, Parkton EMS and Operation First Response.
"With three charities, we hope to raise enough money to make a difference, so that each organization gets a substantial amount," said Blackman.
Tickets are available at https://dayofthecowboy.wordpress.com. Find out more about 7 Branch at https://www.facebook.com/7-Branch-Farm-248209858571054.
There was no law in the wild west, so cowboys had to make up their own code of conduct. It wasn't legally binding but more of a code of honor.
The National Day of the Cowboy
Code of Conduct for
Cowboys & Cowgirls©
1. Live each day with honesty and courage.
2. Take pride in your work. Always do your best.
3. Stay curious. Study hard and learn all you can.
4. Do what has to be done and finish what you start.
5. Be tough, but fair.
6. When you make a promise, keep it.
7. Be clean in thought, word, deed, and dress.
8. Practice tolerance and understanding of others.
9. Be willing to stand up for what's right.
10. Be an excellent steward of the land and its animals.