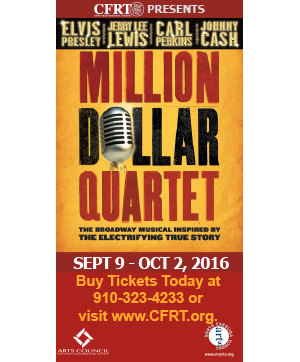 When artists gather together, sometimes magic happens. And that's what happened on Dec. 4, 1956, when four music icons – Jerry Lee Lewis, Elvis Presley, Sam Perkins and Johnny Cash - met at Sun Studios in Memphis and decided to jam. That infamous jam session was covered by a reporter from the Memphis Press-Scimitar who titled his article about the event "The Million Dollar Quartet." Fast forward to today, The Million Dollar Quarter, the musical, is wowing audiences all over the world, and on Sept. 9, the show will open at the Cape Fear Regional Theatre as the opening of the season.
Tom Quaintance, the artistic director of the theatre, is excited about the show, which is a co-production with Theatre Raleigh. Quaintance explained that Theatre Raleigh was closing its season with the show while the CFRT was opening its season. It was a great opportunity for the two theatres to work together and literally move the show – cast and all – from one theatre to the other.
"The show is a single set show and we were able to get a great group of people to do the show in both places. Here we are, at the CFRT, a week out from the opening, but we have already seen it in Raleigh. It was nice collaboration," said Quaintance.
He went on to note that if you liked the theatre's production of Ring of Fire, you are "going to love The Million Dollar Quartet."
"This is a great time at the theatre," said Quaintance. "It's not only great music, but it's also a great story. It is really unbelievable that these guys came together for this great jam session. It is wildly entertaining, while it tells a really cool story that ties all of the music together. We get a glimpse into these characters that we feel like we know. We get a chance to peek behind the curtain and look at what goes into making an artist's career. This story looks at how they came together and what ties them all together. Sam Phillips, of Sun Records, found, cultivated and developed some of the greatest musicians of the century. This show gives us a peek behind the curtain at what started them on their path."
As was the case with Ring of Fire, the theatre wasn't just looking for good actors, it was looking for good musicians as well. The actors/musicians who play the roles of Presley, Cash, Lewis and Perkins will not only sing all of the music, they will also play all of the instruments. And, the music will get the house rocking with hits like "Blue Suede Shoes," "That's All Right," "Sixteen Tons," "Great Balls of Fire," "Walk the Line" and more including gospel songs that were very important to each artist.
Ian Fairlee is Jerry Lee Lewis in the show. "The character of Jerry Lee Lewis really draws me," said Fairlee. "He was one of the most intense musicians. I've played piano for 17 years. Musical theater has always been my first love, but to find something where I can literally destroy a piano is a real treasure. This character especially is kind of different side of who I am as a person. He is very cocky, arrogant – not something I'm used to, but it's a lot of fun."
As was the case with each of the actors in the show, Fairlee took the time to read Lewis' biography. "As crazy as he was, Jerry Lee Lewis was very religious. He had a legitimate fear that his music was causing him to be sent to hell for stirring up rambunctiousness in the community. He struggled with it his entire life," explained Fairlee.
The same can be said of Johnny Cash. Ted Bushman, who plays Cash in the musical, loved the Americana cowboy that Cash personified.
"It's fun to be the John Wayne of rock and roll. Cash is not swaggering, but he has a mysterious, wanderer quality that I think is so exciting to portray," said Bushman. "I've been reading Cash's biography and he was so spiritual and humble as an older man. I want to portray this timeless Johnny Cash. Johnny's life became part of people's consciousness and became a friend to them."
"I have enjoyed getting to know who Elvis was before he was the icon," said Joe Boover. "Of course when I got this role, I was intimidated. But I started reading his bio and getting to know who he was… getting to know his insecurities. One of the things I found was that throughout his life, he always worried that the audience was making fun of him. Those leg movements that he became famous for were really a nervous tick. Sam Phillips gave him confidence and his tie to his family kept him going through all of the craziness – and that's something I can connect to."
Michael Kennedy had a bit more studying to do when it came to playing the role of Carl Perkins. He couldn't find very much about him, which took the pressure off and gave him the freedom to imagine how things may have happened.
"We know he loved to write, play guitars and his family," explained Kennedy. "One of the most important things he and his wife did was set up a foundation for abused children. He loved the people with whom he played. He loved jamming, recording and making new types of music and being around great people. People looked up to him and he was humbled by that."
One of the people that looked up to Perkins was Cash. They were very good friends. Perkins would often play backup at Cash's concerts. "Cash hated that," said Kennedy. "He always wished that Carl would have been more recognized."
The show runs Sept. 9 through Oct. 2. For tickets and information, visit ww.crft.org or call the box office at 323-4233.