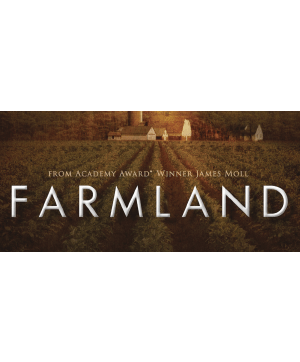 Sustainable Sandhills does a lot of things. One of them is educate people. But learning doesn't have to be boring. And that is what the organization proves time and again with its Sustainable Saturday's series. Once a month, Sustainable Sandhills presents movies that focus on sustainability and environmental issues. These films are free to the public and take place at the Cameo Art House Theatre. The events always start at 11 a.m. Usually, experts in fields that relate to the movies come and host discussions following the films. Some of these may directly affect the community; some may focus on a larger scale. Last month, River Run: Down the Cape Fear hit close to home, while previous showings like More Than Honey and Black Gold dealt with bigger picture issues.
The next Sustainable Saturday is on Sept. 24 and features the film Farmland. The movie focuses on the huge disconnect between the majority of the American people and the people that produce the food they eat. The documentary follows six young farmers and ranchers in their twenties and illustrates the high-risk/high-reward lifestyles they lead. It is a story about passion and about evolution. Farming is in many cases, tradition, but these new young farmers bring a fresh new perspective to their work. They are driving change and this film is a first hand look at their work. It grapples with controversial issues like genetic modification, animal welfare and antibiotics in animal feed. It comes from award winning director James Moll. As a point of awareness, it was funded by the U.S. Farmers and Ranchers Alliance
However these once a month screenings are not the only time that environmentally concerned films are available. Sustainable Sandhillls has a significant library of green films. Volunteers are invited to host their own screening for friends and family with at-home screening. Those wanting to experience these films with friends need only contact Sustainable Sandhillls to arrange a rental. For those looking for even more reach there is also the option of volunteering for a living room social Sustainable Sandhills will supply the film and registration and hosts provide the living room and the popcorn. These socials are generally planned three weeks in advance based on dates chosen by the host. Businesses are also invited to sponsor films and host green film socials.
Sustainable Sandhills is a local non-profit that traces its roots to the sustainability initiative that Fort Bragg leadership started in 2000. In 2002 the Sustainable Fort Bragg program was formed and its success in work like identifying its environmental footprint has inspired leaders to continue the progress beyond the Fort Bragg boundaries. In partnership with Fort Bragg and the NC Department of Environment local community leaders and stakeholders created the Sustainable Sandhills Initiative in 2003. The steering committee defined success as not relying on nonrenewable resources, not systematically increasing non biodegradable synthetic products, not degrading natures services and meeting all basic needs. Since 2005 the initiatives include eight counties: Cumberland, Hoke, Harnett, Moore, Richmond, Scotland, Lee and Montgomery.
Sustainable Sandhills has translated the initial goal of the organization set out by the steering committee into four core program areas: clean air, clean water, green schools and green business. Their efforts to achieve these goals focus on youth empowerment, combating climate change, documenting the environment and demanding stronger protection for it. Their tools are education, demonstration and collaboration. Find out more about Sustainable Sandhills at http://www.sustainablesandhills.org/