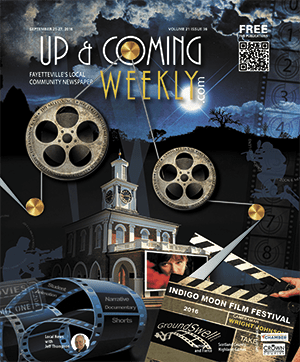 The Indigo Moon Film Festival will bring 38 independent films to Downtown Fayetteville Oct. 7-9, featuring the work of students and seasoned professionals alike. The films were submitted from around the world, including some from local filmmakers.
"If you love films, I hope you will make your way here," Pat Wright said.
Wright and Jan Johnson, founders of local non-profit GroundSwell Pictures, organized the event. Both Johnson and Wright are award-winning producers/directors/writers. After years of attending other film festivals, the pair decided to organize a festival locally.
"We do have a thriving arts community here," Johnson said. "But film is not well-represented to enhance our cultural arts options."
The festival is the first of its kind in Fayetteville, Wright said.
"There will be films from around the world," Wright added, noting that films were submitted from the U.S., Great Britain, Australia, Myanmar, Thailand, India and Hong Kong. "Through these films we get to see other cultures, feel empathy and understanding."
At about a dozen of the screenings, the actual filmmakers will be on site to discuss the film afterward, Johnson said.
The pair explained how they came up with the name of the festival.
"Independent films are called 'indie,'" Johnson said.
"You have an opportunity like this once in a blue moon," Wright added. "This is our chance, our once in a blue moon."
No strangers to taking chances or filmmaking, Wright and Johnson created GroundSwell in 2014 to engage and inspire others by making films, teaching filmmaking, showing films and supporting other filmmakers. Their own films tackle tough topics such as child pornography, the effects of desegregation and recovery efforts in Haiti after an earthquake killed more than 230,000 people in 2010. Wright and Johnson say they are committed to educating the public and creating a groundswell of constructive change.
While some of the films shown during the festival will cover serious topics such as genocide in Iraq, suicide and domestic violence, there are also lighter and humorous topics — the story of a 100-year-old artist, the happenings at a hotdog stand, nuns cited with "radical feminism" by the Vatican.
First-time festival-goers should visit the website www.indigomoonfilmfestival.com to review descriptions of the films and watch the trailers. With 38 titles and a wide variety of genres, there is something for every viewer. The selections range from two-minute short films to two-hour features.
Not only for those who enjoy viewing films, the IMFF is a competition. There are six cash awards and five awards voted on by the audience. The categories are: narrative feature, narrative short, documentary feature, documentary short, animation and student film. All films will be shown over three days in four venues Downtown: the Cameo Art House Theatre, the Arts Council, Hay Street United Methodist Church and the Cumberland County Headquarters Library.
Maya Angelou: And Still I Rise will open the festival on Friday at 7 p.m. at the Cameo, Wright said. The film, released earlier this year, is a documentary about poet, author and performer Dr. Maya Angelou. It reflects on how the events of history, culture and the arts shaped Angelou's life and how she inspired others through her autobiographical literature and activism.
The film has been on the independent film festival circuit, Johnson said, explaining it is a rare opportunity to be able to show it in Fayetteville.
"We all kind of embraced her as our own," Johnson said, "We thought we knew her."
Before her death in 2014, Angelou taught at Wake Forest University and made her home in Winston-Salem. The documentary includes clips from older interviews as well as her final interviews, and goes into parts of her life most are unfamiliar with, Johnson said.
After seeing the film about Angelou's life, "You can't help but feel inspired and motivated," Wright said.
On Sunday, the final day of the festival, an awards banquet BBQ is slated at SkyView on Hay Street at noon with an encore showing of the winning films at 1:30 at the Cameo.
There are several options for film-goers. To attend the opening night film and party at SkyView, tickets are $25. Tickets are $15 to attend the awards banquet. Individual tickets for films are $10. Tickets to see blocks of the short films, which range from two to 30 minutes each, are $10. You can also purchase a VIP pass for $80-$100 which includes the opening night film and party, the awards banquet, tickets for up to five film blocks, an IMFF festival tote and first admittance to screenings. There are discounts for students, seniors, military and Moon Shadow Film Society members.
There is limited seating in all venues, and you must pre-select your choice of films when you purchase tickets/passes to guarantee your seat. You can purchase passes on the website or go to the Rainbow Room on Hay Street.
Any unclaimed seats will be made available for $10 cash only five minutes before the screenings.
Under GroundSwell Pictures, Johnson and Wright also run the Moon Shadow Film Society, which hosts a screening of an independent film at the Cameo Art House Theatre the first Tuesday of the month at 7 p.m. Fittingly enough, October's film was The Last Film Festival.
"It is the film Dennis Hopper was working on when he passed away," Wright said. Hopper stars as a movie producer whose film has been turned down by 3,999 of the 4,000 film festivals in the world.
Like the Indigo Film Festival, the actual filmmakers are often on hand to answer questions and discuss the film after the screening. Also after each Film Society screening, the audience is invited to a reception at the Rainbow Room.
The next Film Society screening is Oddball on Nov. 1. The film is based on the true story of a chicken farmer who trains his mischievous dog to protect a wild penguin sanctuary from fox attacks and in the process tries to reunite his family and save their seaside town. The film is appropriate for the entire family.
Tickets for Moon Shadow Film Society showings can be purchased at the Cameo.
For more information on the Indigo Film Festival or the Moon Shadow Film Society, visit www.groundswellpictures.co