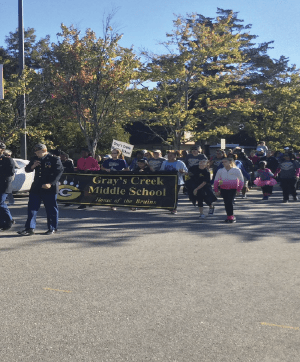 Cumberland County Schools presents its 13th Annual Reading Rocks Walk-A-Thon & Block Party on Saturday, Oct. 15, at 8:30 a.m. in Festival Park in Downtown Fayetteville.
"Reading Rocks is an event that Cumberland County Schools hosts each year and it promotes literacy among our schools," said Jody Hawley, executive director of information technology and media services. "We actually have several events going on during Reading Rocks." Hawley added that after the walk, the school district's Parent Teacher Association will have a "Rock the Block" party.
The walk-a-thon is a 15-minute walk in Fayetteville's historic downtown area. "We have thousands of walkers attend each year," said Hawley. "Last year our schools raised more than $265,000, so we would love to top that amount this year."
The proceeds are used to purchase books, digital tools and other learning items that will benefit the students and media centers in Cumberland County.
The agenda consists of the mayor and Dr. Frank Till, superintendent of Cumberland County Schools speaking. John Malzone is the emcee of the event. Choruses and band ensembles will provide entertainment. "We have invited mascots from the community as well as mascots from our schools to attend the walk," said Hawley. "We will have our high school host band inside Festival Park leading the music for the chorus and we will also have other middle and high school bands along the route so all walkers can enjoy the sights and sounds of our school bands."
A new addition to the event this year is the "Rock the Block" party sponsored by the district's Parent Teacher Association that takes place after the walk. There will be a deejay, food trucks and community vendors on site. "We are excited to partner with our district PTA this year and we hope the block party will be a success," said Hawley.
Promoting literacy among students is very important to Cumberland County Schools. "We know children who gain literacy skills at a young age are more successful," said Hawley. "All subject areas require reading and we know kids who have a high vocabulary do well in reading and other subject areas." Hawley added that reading is fun and it lets kids' imaginations run wild when they read fiction. They also get to learn new things when they read nonfiction and be explorers. She noted that it truly is a wonderful thing to see a child who can master reading.
Sponsor categories range from $25 for Book Buddy to the Platinum Superintendent's Circle for $5,000. Any amount is appreciated. Checks can be made payable to your child's school or CCS' Media Services to support the countywide Reading Rocks fund.
"We look forward to seeing everyone at the event," said Hawley.
The event is rain or shine. Gates open at 8 a.m. The walk will begin at 9 a.m. For more information or to become a sponsor, call 678-2613.