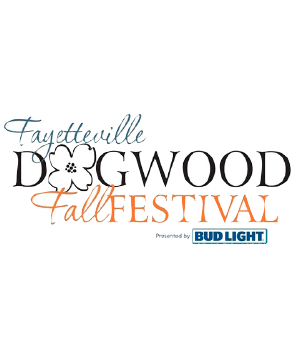 Bud Light presents Fayetteville's Dogwood Fall Festival from Thursday, Oct. 27 – Saturday, Oct. 29.
"There are many elements that make up this event and lots of things that fold into it that make it what it is," said Carrie King, executive director of the Fayetteville Dogwood Festival Incorporated. "Saturday is our big day with the food truck and craft beer festival end of it."
King added that this event started many, many years ago with Historic Hauntings, which was a fundraiser for the Dogwood Festival. Patrons were put on a wagon for a hayride and they would be taken to downtown Fayetteville and get off of the wagon to see skits and vignettes that told the history of Fayetteville. Visitors to this year's festival can enjoy a variety of activities.
Historic Hauntings (Thursday – Saturday)
There will be a guided walking tour in the dark through Cross Creek Cemetery Section II. It features ghostly reenactors and storytellers that share the creepy side of Fayetteville's history.
"This year, you must go online to purchase the tickets and set up a time," said King. "Then you go to Festival Park and ride the shuttle to the location where you will be taken on a guided tour through the cemetery in the dark." Tickets are $10 and can be purchased online.
Haunted House (Thursday- Saturday)
The LaFayette Insane Asylum, better known as the haunted house, is guaranteed to deliver the hair-raising chill that thrill seekers desire. It will be located in the back near the Ray Avenue entrance to Festival Park. Tickets are $10 or $9 with a canned good donation to benefit our local food banks. Seventy-five percent of the proceeds will benefit Fishing to Fight Cancer.
Hayrides (Thursday-Saturday)
There will be 20 – 30 minute narrated hayrides through historic downtown. Hayrides will be offered Thursday from 7 – 9 p.m.; Friday from 6:30 – 10 p.m. and Saturday from 3 – 10 p.m. Wagons depart at the corner of Mason & Ray Avenue every 30 minutes. Ticket cost is $5 at the gate.
Bands and Brews
"We have a national headliner coming and it is country artist Brett Young," said King. "Chase Bryant will also perform." Beer and wine will be available for purchase. There will be over 20 craft and domestic beer selections. This is a free concert on Saturday presented by WKML 95.7. If you would like to sit in the front two rows at the concert the cost is $25 per person. A wristband will be mailed to the address provided during the purchase. Brett Young will take the stage at 7 p.m. and Chase Bryant will perform at 9 p.m. There will be entertainment on the stage all day Saturday starting at 3 p.m. featuring local artists.
Fayetteville's Food Truck Festival
This event takes place on Saturday, October 29 from 3 – 10 p.m. It hosts 28 food trucks from North Carolina featuring gourmet foods and culinary favorites. Purchase a Dine & Dash pass for $5 and get in 30 minutes before the crowd at 2:30 p.m. Tickets will be on sale in October.
"Every event that we do we give a portion of the proceeds to a nonprofit organization that assists us," said King. "So, 50 percent of the ticket sales for Historic Hauntings go back to unbudgeted funding items for Bruce, who is our city historian and items for display." King added that over the past nine years, the Dogwood Festival has contributed over $110,000 to other nonprofit agencies that assist them.
"We look forward to seeing everyone at the festival," said King. For more information call 323-1934.