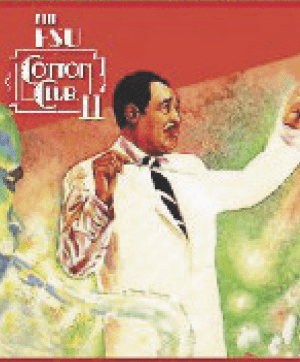 On Nov. 5, Fayetteville State University will host Cotton Club II, which is a jazz-inspired performance by Fayetteville State University students who are part of the Department of Performing and Fine Arts. Associate Vice Chancellor for Communications Jeffrey Womble is looking forward to the performance. "Singers, dancers, artists and theater students will provide entertainment of the highest quality. A live jazz band consisting of FSU students and musicians from the Performing and Fine Arts Department is slated to perform. We had a similar event last year that featured actress Jasmine Guy and it was such a hit, we decided to do it again, but this time put the spotlight on the many talented students we have at Fayetteville State University."
The name of the event is inspired by the famous Cotton Club in Harlem in the 1920s. The students, inspired by the incredible jazz music of the era, will capture the electric atmosphere of creativity that emerged in the Cotton Club. "Men attending the club wore zoot suits, wide-brimmed hats and wing-tipped shoes. Gold chains dangled from their pockets. The women donned flapper dresses made of fringe and sequins and bell-shaped hats. In its heyday, The Cotton Club was the spot to be and be seen. The venue featured singers and dancers, and it helped launch the career of many artists to include Duke Ellington, whose orchestra was the house band there for four years," Womble explained. "Cab Calloway and Dorothy Dandridge were regulars. We are going to recreate that entire scene at The FSU Cotton Club II on Nov. 5 with singing, dancing, champagne and great food."
Cotton Club II has been billed as a tribute to Duke Ellington and celebrates his classic songs and style, but the performances are truly a tribute to jazz and to the era. "Music featuring other jazz artists from the Harlem Renaissance era is also on tap. You just might hear some Ella Fitzgerald, some Dorothy Dandridge or Cab Calloway. There's going to be something for the jazz lover in everyone," Womble said.
The event is in part a fundraiser.
"It is part of First Lady Nancy Anderson's initiative to raise money for the Department of Performing and Fine Arts at Fayetteville State University," Womble said. "Proceeds from the event will provide scholarships and other needed support for the department."
Nationally, arts programs have been struggling fiscally, but the arts are an important aspect of having a prosperous and healthy community. This event allows the region to support their local students and the artistic future of the area.
"This is a community effort and it's for the community. While we have many university employees involved in the planning and execution, much of the work is being coordinated by Nancy Anderson and a committee consisting of community leaders and friends who want to see the performing and fine arts at FSU flourish and provide quality programs for the citizens of this region," Womble said. "Great food, incredible music and the champagne will flow. Attendees are encouraged to dress in attire reminiscent of the Harlem Renaissance era and come help us bring The Cotton Club II to life. This is an event that you don't want to miss."
For tickets and information, visit the website at www.uncfsu.edu/arts.