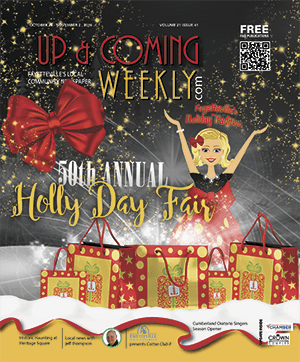 From the decorations to the vendors to the hum of anticipation in the ticket line, it is obvious that the Junior League's Holly Day Fair committee is passionate about the annual show. This year, the Holly Day Fair is Nov. 3-6. The fact that it is the 50th Holly Day Fair makes it that much more special — on several levels.
Jami McLaughlin is the chairperson this year, but she's served on the committee for several years. "It is so rare that a fundraiser lasts for 50 years. The fact that we are still doing this and it is still going strong is an honor for all of us," she said. "We will definitely be rolling out the red carpet."
This year's presenting sponsor is Carolina Pottery, bringing so much inventory that the event organizers have set aside and entire space just for them. "Carolina Pottery will have a huge space outside our normal foot print. They really know how to do Christmas right and will be bringing all kinds of things that our shoppers will just love," said McLaughlin. "We are excited about them coming and especially about their level and quality of items. They will help decorate the lobby, too. I think our shoppers will be impressed."
The main shopping gallery is already filled to overflowing with 165 vendors, including returning favorites as well as some new vendors. Quality and variety are key when it comes to selling here. And with an impressive track record for success, the Holly Day Fair is a show vendors want to attend. Unique clothes for adults and children, home accents, gift items, food related items, accessories, sports-related items are just a few of the treasures available at the Holly Day Fair. "We try diversify and make sure we have something for everyone. We love our vendors. Over the years so many of them have become like family. We look forward to seeing them every year and watching how much shoppers enjoy the products they bring to the show," said McLaughlin. "And our vendors look out for us, too. Many of them are professionals and make a living at shows like this. So it is not unusual for a vendor to call and say 'Hey, listen, I was just at a show and there was a vendor there selling X,Y,Z, and they had a line down the aisle. You may want to give them a call.'"
Researching new vendors is responsibility the committee takes seriously. Before opening vendor applications online, the committee visits shows in places like Raleigh, Charlotte, Myrtle Beach, South Carolina and even Richmond, Virginia. "Recruiting and selecting the best vendors is an important part of the show," said McLaughlin.
By any standard, the Holly Day Fair is a successful show. The fact that the Holly Day Fair is celebrating 50 years is just one way to measure its success. The 50/50 raffle that lands the winner a five-figure prize is a sure sign of the size and scope of the Holly Day Fair. The more than 22,000 shoppers that come every year — that's a successful show by anyone's standards. The more than $250,000 this event raises each year and that the Junior League returns to the community — for a total of more than $5 million to date … also a huge success. But when a group like the Junior League of Fayetteville's volunteers invest in something like this, it is about more than numbers. "One of the parts that is very heartwarming is when you see the Holly Day Fair actually happening. When you see the vendors that return year after year, when you experience the camaraderie with the other volunteers, when you see the shoppers get so excited when they come through the doors and when you see how happy they are with their purchases when they leave — things they won't be able to find anywhere else … it is just a happy time," said McLaughlin. "Because the Holly Day Fair has been around for 50 years, we have generations of shoppers that come and shop together. Grandmothers who started coming years ago — now they bring their daughters and granddaughters and it is part of their family holiday tradition. We have shoppers that come from as far away as Ohio and Virginia and South Carolina every year. There is one group that comes from South Carolina that makes T-shirts for their trip to the Holly Day Fair. It is their girl's weekend. It is always so much fun to see them and watch them enjoying themselves."
For the volunteers, that's success.