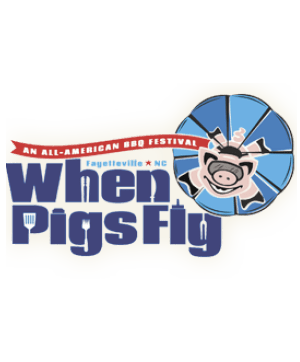 Communities in Schools presents the fifth annual When Pigs Fly All-American BBQ Festival on Saturday, Nov. 12, from 11 a.m. -6 p.m. in Festival Park.
"When Pigs Fly is our signature fundraiser and annual BBQ competition," said Charlie Horman, executive director for Communities in Schools for Cumberland County. "It is our sanctioned BBQ contest and we are sanctioned by the Carolina BBQ League and we follow their rules and procedures."
The two-day event begins on Friday and the public is invited to attend the event on Saturday.
"The BBQ team rolls in on Friday morning and they set up camp in Festival Park," said Horman.
"There is a judge's meeting that discusses all the rules of the competition and then they head back to their individual campsites to begin cooking." Horman added that the participants cook their barbecue through the evening and into the night. There are two divisions this year. The "Whole Hog" division features whole hogs cooked over charcoal or wood. The "Pitmaster" division is broken down into three categories: butts, ribs and chicken. These can be cooked using any heat source.
"This year we are doing a taster's choice component in which the public can pay to taste the barbecue," said Horman. "The public wanted access to what the teams were cooking so we are excited that this is the first year of adding the tasting component."
Four bands will provide entertainment for the event. The Parsons hail from Grays Creek and have a repertoire that relies heavily on guitars, banjos and mandolins. Clydes Cabin, Lotus Sun and Machine Funk (Widespread Panic Tribute band) are also scheduled to perform.
Vendors will be on-site. Beer will be available for purchase. "This festival is about good music and the celebration of barbecue in North Carolina," said Horman. "We welcome everyone to come out and participate in the event."
Proceeds benefit Communities in Schools of Cumberland County, which has been in operation for 12 years. "The fundraiser is how we pay for the folks who work in our schools," said Horman. "We are the county's best kept secret and we work with some of the community's most vulnerable students." Horman added that they work with the students to keep them on track to stay in school and be successful in life.
In 2013/2014, Communities in Schools gave $28,000 in grants to teachers in Cumberland County. It paid $4,500 for third graders in Cumberland County to attend a Fayetteville Symphony Orchestra concert. CIS funded the $5,000 teacher of the year cash awards and teacher appreciation gifts. Programming for after school clubs and career and college access plans received $30,000 from the organization. A scholorship for $1,500 came from CIS coffers as well. For the 2013/2014 school year, CIS served 21,617 Cumberland County students.
No outside food or beverages allowed at the event. Tickets cost $5 and can be purchased at www.cisofcumberland.org. For more information call 221-8800.