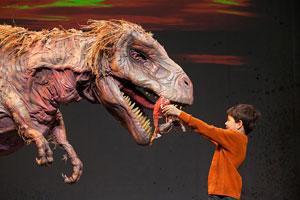 Take a trip back in time on March 5 at the Crown Theatre at Dinosaur Zoo Live. It is fun to learn about and imagine life on Earth when dinosaurs roamed, but this show takes the excitement of dinosaurs to a new level. Audience members are taken on a realistic tour through prehistoric Australia. Realistic dinosaurs of all sizes along with performers will teach audience members about the amazing creatures onstage. It makes for a show that is visually stunning, fun and educational for all ages.
This production features 19 dinosaurs onstage, including the amazing triceratops. The sometimes giant and always realistic dinosaurs are actually puppets. Trained puppeteers in the performance are able to make the life-sized puppets move in lifelike ways. It even allows audience members to interact with the dinosaurs. Because the show is both visually stunning and physically interactive, it makes paleontology come to life. By combining science and theater, it makes the knowledge accessible and entertaining. Prior knowledge and a passion for paleontology are not prerequisites for this show. Everyone is welcome to come and explore the ancient world of giant reptiles. The goal is for everyone in the audience to walk away with a little something more than they arrived with. That could be a little more knowledge about dinosaurs, a new passion or interest in paleontology or just a little more happiness from the joy of watching the show.
Erth Visual & Physical INC. is the company responsible for creating this show. The company was founded in 1990 and is based out of Sydney Australia. They are widely recognized for their visual work. They specialize in creating out-of-the-box and unexpected visual experiences that engage audiences in novel ways, especially when dinosaurs are involved. Their puppets are incredibly well-respected for their craftsmanship and realism. They have been commissioned for museums, zoos, theaters and festivals from all over the world. Their most widely recognized work is Erth's Dinosaur Zoo. The show is constantly touring globally and has several highly trained teams of puppeteers and performers that tour simultaneously so that they can bring this show to a variety of venues across North America, Australia and the United Kingdom.
Erth's Dinosaur Zoo Live has been recognized as one of the best children's shows and has received positive reviews from multiple critics in the United States, not to mention the opinions of many happy families.

Erth's Dinosaur Zoo Live will be at the Crown Theatre for just one night: March 5. It starts at 4:30 p.m. The Crown Theatre is located at 1960 Coliseum Dr. Ticket prices range from $20 t0 $50. Audience members under 2 years old do not need a ticket. The $50 VIP tickets include a post show meet & greet, a signed photo and a tour laminate. To purchase tickets or for more information visit the following website: http://www.crowncomplexnc.com/events/detail/erths-dinosaur-zoo-live.