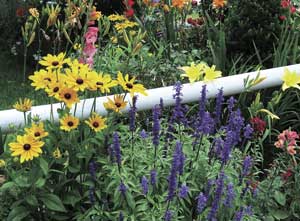 This spring has been unusually fast in coming, which has caused gardeners to both wiggle their toes in anticipation and clutch their hearts for fear of a devastating freeze.
If this describes you, then you are most likely a deep-rooted lover of growing things and should attend the Master Gardener Spring Symposium 2017, organized by the Cumberland County Extension Master Gardener Volunteer Association. The event will be held Saturday, March 25, at the Cumberland County Agriculture Extension Center.
The CCMGVA is made up of people who are truly passionate about gardening. Judy Dewar has been a volunteer with the organization for 13 years. She is currently the "chair, table and leg" for the Spring Symposium. She said she fell in love with gardening "100 years ago" in the backyard with her Dad – where he only let her do the weeding.
Sandra Williams, registrar for the Symposium, shared what she loves about CCMGVA: "I relish the knowledge of those that have been in the volunteer program for years … It is great to share our common (love) of making things grow successfully with our community."
Dewar, Williams and everyone involved in organizing the Symposium have selected speakers who share this genuine passion and have unique expertise and skills to share. Roger Mercer, Mike McGrath and Bryce Lane will speak, and Brienne Arthur will be present for a book signing.
Like Dewar, local guru Roger Mercer traces his love of gardening back to early experiences with his Dad. "We created beautiful gardens wherever we moved, and we lived in about 17 houses before I got out of high school," he said. At the Symposium, Mercer will offer his extensive knowledge on day lilies and camellias as well as general gardening knowledge, using the Garden of Eden as his theme. "It's about love. Gardens are a way of loving each other through shared experiences of natural beauty. We all carry our image of the Garden of Eden. It's a place of peace, beauty and tranquility to be in … I think that's why (it's) such a powerful metaphor."
Mercer cares for 6.5 acres and grows about a quarter of a million plants each year, including 2,000 of the best plants to grow specifically in the Cape Fear region. He is here for the community in his daily life, not just as a speaker at large events. He welcomes those who are interested in seeing his property to give him a call and set up a time to visit. "It's kind of one of my mission in life to help people have prettier gardens," he said. He means it.
Organic gardening expert Mike McGrath will travel to Fayetteville from Philadelphia, where he hosts the nationally syndicated public radio show You Bet Your Garden. He is also the former editor-in-chief of Organic Gardening magazine, as well as the author of books on tomatoes, composts, seed collecting and kitchen gardening. He currently serves as the garden editor for WTOP News Radio in Washington, D.C., a position he has held for more than a decade. From 1993 to 1997, he appeared monthly as the garden expert for the Saturday morning edition of NBC's The Today Show. McGrath will speak twice at the Symposium, with talks titled Everything You Know About Compost Is Wrong and Gardening on the Edge.
Horticulturist Bryce Lane hosts and produces "In the Garden With Bryce Lane" on UNCTV, and has won two mid-south Emmy Awards for that work. With 30 years of teaching experience and numerous local, regional and national teaching awards under his belt, he is also a professor emeritus at NC State, and teaches courses for various organizations like the Raulston Arboretum. He has worked with CCMGVA for over 30 years of the 36 years he's lived in North Carolina. "Gardeners are the happiest, friendliest people I know … I am a teacher at heart and therefore seek out opportunities to share my knowledge and enthusiasm for horticulture," he said.
Brienne Arthur will be present for a book signing of her new book, "The Food Scape Revolution," which describes how to create a beautiful, edible garden dispersed amongst your poppies and roses.
This is the third year that members of CCMGVA have orchestrated a Spring Symposium, which is made possible by the Fayetteville PWC and 15 other generous community sponsors. Registration for the full day costs $50. Garden-related vendors and special garden interest groups will be available for browsing throughout the day. Attendees can also take a guided tour of the Master Gardener's Demo Garden between sessions. The event is almost sold out! Register online at https://form.jotform.com/Mastergardener1/registration2017.