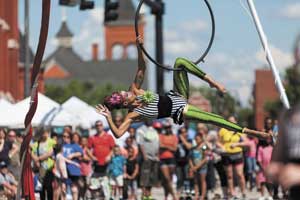 Active Artist Area
On April 29 and 30 there will be an area on Person Street totally dedicated to live demonstrations by local artists. It is called the Active Artist Area and will be manned from noon until 6 p.m. Artists will demonstrate skills like throwing pottery, raku, blowing glass and acrobatics. Raku is a traditional Japanese method of glazing pottery. It usually involves coating pottery in lead-based glazes and then baking the product in a kiln. However, many modern potters have
altered the process.
One featured artist who will be demonstrating is Greg Hathaway. Hathaway is a well-known local artist and owns a business downtown called Gregs! The shop, located at 122 Maxwell St., is a fun place to purchase fine art, pottery and gifts. Much of the work sold in the shop is Hathaway's work. He is a talented artist and is particularly well-known for his watercolors and pottery. He will be demonstrating his incredible skills for anyone and everyone interested in learning.
Another featured group of artists is Air Born Aerial Arts. The group is a circus-style performance troupe based in Fayetteville. The troupe trains in a variety of genres, but each one requires an amazing amount of strength, skill and balance from all of the artists. They train with aerial silks, which are long strands of fabric that hang from the ceiling that artists manipulate. They also train with hammocks that are continuous loops of fabric. The static trapeze is a bar suspended from the ceiling by two ropes, and the Lyra is a hoop suspended from the ceiling. Each of these genres requires a unique set of skills and facilitates different styles of performing. The artists will show their hard-earned skills with unique and daring demonstrations.
Every artist at the Dogwood Festival has put countless hours into developing his or her skills. The result of most art is visually striking, but the process can be just as beautiful. The Active Artist Area on Person Street gives the community the opportunity to take a peek into the artists' workshops. Watching and learning about all the time and work that goes into creating a beautiful bowl or perfecting a flip makes the final product all the more valuable. The Dogwood Festival is about appreciating what the community has to offer and Fayetteville has incredible artists.
Anchored Attraction Area
The Anchored Attraction Area is an exciting addition to the Dogwood Festival. It is a new performance area on Gillespie Street near the Market House. It will feature three different family-friendly shows. These three shows are interactive. This area will only be open on April 29 from 12 p.m. until 7 p.m. Each show is an hour long and will be performed twice on April 29.
The first show is Juggling and Bubbling Fun, with the first showing from 1-2 p.m. and the second showing 4-5 p.m. This show features Steve Langly, who is affectionately known as the "Bubble Guy." He is a professional entertainer, juggler and bubbleologist. He has been on the Tonight Show and Comedy Central and is the proud holder of many Guinness World Records. Langly uses his incredible juggling and bubble-making skills to engage families with comedy and fun. His shows are full of mind-blowing tricks that
are not only fun, but also educational.
Shadow Players Combat Pirate Show takes the stage first from 3-4 p.m. and then 6-7 p.m. This stage combat group brings pirates back to life. The light-hearted show takes audience members into the past and a world of swordplay, whip work, comedy and pirate song. Since the pirates are trained in stage combat, their brave and daring antics are actually quite safe. They use their talents to make the audience members' experience on the high seas a family-friendly and hilarious adventure. It's a great opportunity to learn about The Golden Age of Pirates.
The Rock 'N' Rope Warrior will take place from 3-4 p.m. and 6-7 p.m. The performance features David Fisher, who has made appearances on The Today Show, NBC Nightly News, Good Morning America and America's Got Talent.
On these shows Fisher demonstrates his intense and interactive jump rope show. He has been performing this show all over the world for 23 years. Jump rope may not sound that exciting at first, but Fisher holds three world records for it. He is even recognized by Ripley's Believe It or Not as The World's Best Rope Jumper.
LaFayette Ford Lincoln Car Show
April 30 at 4 p.m. the roads of Downtown Fayetteville will be overrun with unique vintage vehicles for the Lafayette Ford Lincoln Car Show. Anyone with antique cars and trucks, custom vehicles, sports cars, imported cars and hot rods is encouraged to come and share their beautiful vehicles with the community. The only requirement is that all entries must be registered and titled 1996 or earlier. The first 75 entries will receive commemorative dash plaques.
Beginning at 12 p.m., experts will judge each car to decide on the winners for 38 awards. Trophies will go to best in show, sponsor's choice; mayor's choice; chairman's choice; judge's best import; judge's best truck; judge's best convertible; judge's most unusual; people's choice top ten; and judge's top 20. It's a fantastic opportunity for vehicle owners to compete for some trophies, show off their fun cars and share their passion with others
in the community.
You don't have to own a vehicle to enjoy the car show. This is also an opportunity to chat with the people who own them instead of trying to point them out to friends at a stop light. Everyone is invited to come and see all of the incredible cars and to help the judges decide on the people's choice top 10 award. This is a family-friendly event and a unique way to appreciate American and international history.
The car show takes place from 12-6 p.m., with registration at 10 a.m. All proceeds benefit the Fayetteville Dogwood Festival. The entrance for participants is at the intersection of Gillespie Street and Russell Street. There is expected to be a line of cars from the Market House to Franklin Street. Overflow will be from Otis F. Jones Parkway to the parking lot entrance. For more information, visit www.faydogwoodfestival.com or call 323-1934.
Fayetteville Duck Derby
The Fayetteville Duck Derby takes place in Festival Park on April 30 from 3-4 p.m. Community members are invited to adopt a rubber duck for $10. Each duck will be tagged with a registration number after adoption. Then, over 5,000 ducks will be released into the Cross Creek.
As the ducks are put into the creek, the race begins. The first seven ducks and the last duck to cross the finish line will receive prizes. First place wins a deluxe edition camper from Camping World. Second place wins a yearlong shopping spree at Food Lion; third place gets the same at Super Compare Foods. Fourth place brings $500 home in cold, hard cash. Fifth place wins a set of tires from Ed's Tire & Auto Service, a $500 value. Sixth place gets a large flat-screen TV from Wal-Mart. And the owner of the seventh duck to cross the finish line gets a one-year gym membership at Renaissance Day Spa. The owner of the last duck to make it to the finish line will get a jar of molasses and a camping tent.
Ducks can be adopted online, in the mail, at a Fayetteville Duck Derby booth or at a sponsoring business. To adopt a duck online, visit http://www.duckrace.com/fayettevilleduckderby. Participants must be 18 years old to adopt a duck. While it is delightful to watch the cute little rubber ducks float down a creek, participants do not need to be present to win. Tag numbers are randomly assigned by a computer, but participants can adopt
multiple ducks.
Proceeds from the Duck Derby benefit 20 local nonprofit organizations and the schools in Cumberland County. There are also fundraising teams created by organizations like the Cape Fear Botanical Garden, the Child Advocacy Center, Falcon Children's Home, Fayetteville Running Club, the Leukemia and Lymphoma Society and Fayetteville Urban Ministry, to name a few. Participants have the opportunity to adopt ducks specifically for these fundraising organizations, and have control over where their donations go. Organizers are also accepting more teams with fundraising goals. Community members are also invited to participate by volunteering. It can take a lot of work to make sure that every duck is ready for the big race.
In addition to watching the ducks race down the creek, this family-friendly event will feature live entertainment, a kid's zone, food and vendors selling merchandise in Festival Park.
While the race itself is relatively short and dramatic, the festivities are intended to create a relaxing and fun event for the community in the gorgeous surroundings of Festival Park.
KidStuff
The Partnership for Children presents the eternally popular KidStuff. It's located in the Festival Park footprint and is filled with free child-friendly games and activities. "We host KidStuff every year because we believe children learn best through play, especially when this time is shared with significant adults in their lives. We welcome the opportunity to educate parents on available community resources while discovering what they view as their top-priority family needs. We are deeply appreciative to our sponsors and community partners whose generosity allows us to provide fun, age appropriate activities for our smallest attendees." said Mary Sonnenberg, PFC President.
KidStuff includes several zones designed to make it a fun experience for children and parents alike. The infant/toddler zone is a space for little ones to break out of the confines of their strollers and backpacks and enjoy moving around.
The pre-K zone features learning centers to engage preschoolers with hands-on experiences.
The PNC Grow Up Great Mobile Learning Adventure is an exhibit that transforms preschoolers into pint-sized ballerinas, astronauts and veterinarians and their parents into early childhood educators.
From bounce houses to bubbles, blocks, riding toys, face-painting and more, children and their grown-ups will find something fun to do at KidStuff. The entire space is built around the fact that children develop critical skills through play. When children are given quality early childhood experiences, they will be ready to learn upon entering school, require less remediation, are more likely to graduate from high school, and will grow into productive citizens and valuable employees.
Fayetteville-Cumberland Crimestoppers Barbecue
A sanctioned Dogwood Festival Event, the Fayetteville-Cumberland Crimestoppers Barbecue takes place on Raeford Road at Highland Centre. Crimestoppers sells delicious plates of barbecue for $7 per plate and uses the money to offer rewards to anyone wishing to report anonymous information regarding any crime.
Since its inception, the Crimestoppers program has played a part in more than 4,000 arrests and 5,300 felony charges. It has helped recover more than $4,875,000 in property and $1,893,000 in narcotics. Crimestoppers has issued more than $316,000 in rewards and helped solve 2,477 cases, 67 of which were homicides. Call (910) 483-8477 to report any information regarding a crime and remain anonymous!
The barbecue runs from 11 a.m. to 7 p.m.,
Friday, April 28.
Shriner Fish Fry
A sanctioned Dogwood Festival events, the Hope Mills Shriner Fish Fry is set to run from 11 a.m.-6 p.m. Friday, April 28. It takes place at the Hope Mills Shrine Club at 4461 Cameron Road. Plates cost $8 each. Guests are invited to eat-in or take plates home with them. Proceeds from this event benefit Shriners Hospitals for Children.
Shriners Hospitals for Children provides specialized care to children with orthopedic conditions, burns, spinal cord injuries, and cleft lip and palate regardless of the families' ability to pay. All care and services are provided in a family-centered environment. Call (910) 224-5264 for more information.
A Garden Party
Ladies: It's time to dust off your "southern belle" hats! Gentlemen: Pull out your seersucker suits. Dress in your best summer chic attire and join the Boys & Girls Club of Cumberland County for A Garden Party.
On May 5, A Garden Party, a Fayetteville Dogwood sanctioned event, takes place from 4-7:30 p.m. at Festival Park. This grand Southern tradition features dancing, entertainment, good food and friends.
Proceeds benefit the Boys & Girls Club of Cumberland County, Inc.
Boys & Girls Club of America started in 1860 in Hartford, Connecticut. The founders believed boys who roamed the streets needed a positive alternative. The program grew from that premise and to date has helped thousands of children. Local Boys & Girls Club programs include academic enrichment, daily after school care, grant
programs and more.
Tickets to A Garden Party are $50 per person and are available online in two locations: You can visit www.ccbgc.org or go to Eventbrite and search "The Boys & Girls Clubs of Cumberland County 8th Annual Garden Party."
Save Our Stage Fundraiser
On May 5, from noon to 6 p.m., join the fun at the Save Our Stage Fundraiser at Campbellton Landing. Activities include live music, bounce houses, local vendors and a petting zoo. This event is a fundraiser to save the Sol Rose Amphitheater. The Sol Rose Amphitheater at Campbellton Landing provides an outdoor venue along the Cape Fear River for any manner of musical, theatrical and sporting events.
This stage has been at the center of many community events over the years. It has had bands, orchestras, actors and sportsmen across the planks.
Hurricane Matthew submerged the stage, and the floodwaters pushed and pulled at the timbers that make up the tiers in the theater. Many of these timbers need to be replaced. The stage itself needs some work, and there are still fallen trees and tons of mud to dispose of. The purpose of this event is to raise funds to cover the reconditioning of the amphitheater and stage so scheduled community events can take place here this season as planned.
Learn more about the Dogwood Festival and its many activities at www.faydogwoodfestival.com.