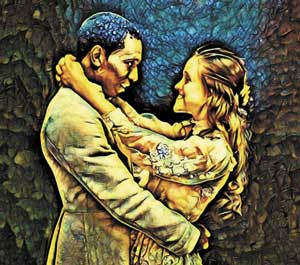 This summer Sweet Tea Shakespeare brings drama to the 1897 Poe House. June begins with a rendition of "Othello." It runs June 1-4, 11 and 15-18.
"This production sticks strongly to Shakespeare's original text, but I would not call it a 'classical' production," said Director Dennis Henry. "The approach to the play is one that is accessible and entertaining. The costumes are Victorian and the actors are modern, so the play feels new. There will be moments of audience interaction and Sweet Tea always creates a fun atmosphere around the play," he added.
"Othello" is one of Shakespeare's most popular works. It is a tragedy about Othello, a Moorish Venetian general, and his wife Desdemona.
Though written in 1603, the story deals with themes and issues that persist today. "One of the first things I noticed when reading 'Othello' with these actors is how modern this play feels," Henry said.
"Many tragedies deal with kings and queens and issues of the government, but 'Othello' is personal. The action starts right away in this play and the issues being dealt with are jealousy, thirst for power, racism, illicit affairs and revenge. These are very personal issues that we deal with today and the characters are just like us," Henry said.
The beautiful 1897 Poe House and garden have a unique and inviting atmosphere perfect for storytelling. This venue allows for the company's minimalistic style, but it can also add a layer of difficulty for the cast.
"Outdoor venues are always a challenge since they are factors you can't control," Henry said. "How bad is the traffic noise? What will the wind be like each day? This is a good challenge, though, because the audience experience is so much fun in an outdoor setting, especially one as beautiful as the Poe House garden. Actors who are well-prepared will be able to deal with whatever may come up."
Another aspect unique to Sweet Tea Shakespeare performances is how they carefully design every aspect of the performance experience. Audience members are engaged and entertained from the moment that they step foot into the venue.
"Sweet Tea has a very exciting approach where they seek to make the entire experience of attending the play exciting," Henry said. "There is so much music and the actors chat with the audience. It is much more fun than just sitting in an auditorium reading the ads in the program. As a director, that makes it even more important to make sure the play is well-done, because I don't want the play to get lost in all the other activity. With this cast, I am confident that won't be the case!"
Sweet Tea's second show of the summer, "The Dark Lady of the Sonnets," runs June 8-10. This show is a break from what Sweet Tea Shakespeare usually brings to the stage, as The Pigeon Creek Shakespeare Company will be a collaborator. This is a professional touring Shakespeare Company from Michigan that partners with Sweet Tea for this performance. This group is known for their audience interaction, which builds an intimate relationship between audience members and performers.
"The Dark Lady of the Sonnets" is written by George Bernard Shaw. The story revolves around Shakespeare's relationships with the inspiration for his plays and poetry: Queen Elizabeth I and the Dark Lady. The Pigeon Creek Shakespeare Company interweaves some of Shakespeare's sonnets and live music into the performance for a unique exploration of Shakespeare and his work.
For more information or to purchase tickets, visit www.sweetteashakespeare.com.