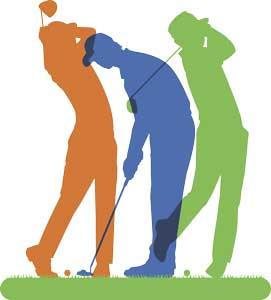 When service members leave the military, they have help transitioning to the civilian world. They have access to job training, they get help with their resumes, they learn about interview processes and more. "It's all about helping service members get prepared for that next phase in their lives," said retired CSM Ron Thompson.
On Friday, July 14, Transition Assistance Services will host a golf tournament to benefit Fort Bragg military spouses with career training. The training will be provided by Fayetteville Technical Community College.
"All of the funds raised go to training military spouses at FTCC," Thompson said. "What we're doing is helping families that are transitioning and changing careers. Many service members have spouses that maybe didn't have a career while their soldier was serving. We help them get ready for their civilian lives."
Thompson went on to say that the program so many service members use to prepare for life after the Army is called the Transition Assistance Program. It focuses on getting transitioning soldiers a job, among other things. Spouses often go through the TAP program but don't have the same guarantee of getting a job at the end. That's what makes this tournament special.
"We're going to help spouses get jobs," Thompson said. "We have companies we've partnered with, and they will hire spouses after they complete this training. Some of the classes are two weeks; some last six weeks or two months."
FTCC routinely offers programs that include things like forklift driver certification, CDL licensing and more. Thompson noted there are 12 to 15 programs at FTCC geared toward this kind of training.
"Some of the courses only get your resume ready, others come with the expectation of a job at the end of the training. (For) the three we're doing — you have a job when you get done with this training."
One program involves working in a shipyard, one involves repairing wrecked cars and one involves training for a CDL license.
"We just want to take care of soldiers and their families," Thompson said. "I spent 30 years in the Army, and I just want to help. Spouses are at home a lot of times taking care of the family while their soldier is serving our country. So, when the soldier gets out of the Army, what skills do they have? Maybe they want to start a second career. Giving them the skills that will help them get a job and be successful at it will be a success story for these families and for the military."
Thompson added that he sees TAP as a great program because it helps soldiers who come in, and maybe after three to five years, they realize that the military is not for them. "They leave, and we help them find a job," Thompson said. "When we help soldiers and their families, we are all better for it."
All proceeds from this tournament will be used to pay for training military spouses. The golf tournament is at Anderson Creek Golf Club in Spring Lake. Check-in and lunch are at noon. There's a shotgun start at 1 p.m. and registration costs $400 per team. For more information or to register your team, contact Ron Thompson at (910) 578-3660 or email Ron5150t@yahoo.com.