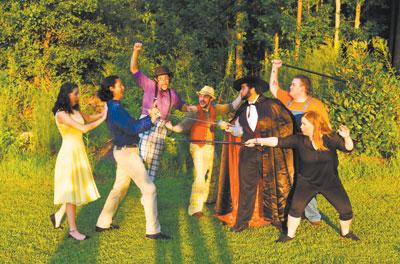 It was the military that brought Jeanne Koonce to the Sandhills. She was a singer and an actress — a performer steeped in the magic that is theater. And she stayed.
She found work with the Bordeaux Dinner Theater and later at the Carolina Civic Center in Lumberton. While there, she created a program for the public schools. It was a a series of countywide productions that allowed students from all over the county to meet each other and participate in musical and theatrical events.
"I ran it for many years," Koonce said. She and the choreographer for the program eventually realized they shared a dream. "She and I started talking about wanting our own company," Koonce said. "It was great doing shows with young kids, but these were teens, and I wanted to work with adults. I wanted to do shows like 'Chicago,' and you can't do that with high school students. My friend and I put our heads together and decided to take the plunge."
Four years ago, Koonce and three colleagues opened Purple Door Productions. Between them, they shared a multitude of skills. They were all actors, dancers and singers. One had experience in stage design, and two were choreographers as well. "This is something most theater groups don't have," Koonce said. "You may have a director and some actors or a business person; you seldom have a core who can do everything plus two choreographers and a director. We had two costumers, and two could build sets."
They rented a studio space in downtown Lumberton to put on small shows designed for audiences of 25–30 people. There, they also taught dance and music and acting.
Then Koonce bumped into a student of hers from years ago who worked at Robeson Community College. "She and I talked about it and entered into a partnership," Koonce said. "We would do big shows there, and part of the money goes to her foundation at RCC to pay for scholarships."
Suddenly, the group was performing in a theater with dressing rooms, sound equipment and more. That was in 2015. Now, the staff of four, including Koonce, Jacob Barton, Lance Carter and Teresa Davis produce shows that can entertain small groups or audiences as big as the 800-seat space at RCC.
Now, three-and-a-half decades after performing in the Bordeaux Dinner Theater, Koonce is back. The Fayetteville Dinner Theater returns for the inaugural performance, "The Fantasticks," under Koonce's direction. July 27-29, this romantic musical comedy takes place at Ramada Plaza.
"The Fantasticks" is the longest-running off-Broadway show of all time. "There is a reason why," Koonce said. "It is a crazy, peculiar little piece of work. It has its roots in Shakespeare, but it's a musical. It has sharp edges, but its word play is quite good."
Playing on the strength of the script and the talent of the actors, Koonce sees the intimate setting a dinner theater provides as another strength for this production. It is a smaller-scale show with only eight characters. "The philosophy of young lovers and family arguments is carried forward into (this) intimate little play," Koonce said. "It is done very sparsely — just like it was in Shakespeare's day. The focus is on the actors and it is lovely this way."
The cast is composed of regional talent that many local theater enthusiasts will recognize. Amber Jansen, a junior at Massey Hill Classical High School and a regular performer at Purple Door Productions for the past three years, plays Luisa. Ryan Ransom plays Matt. Ransom is a St. Pauls native and a music/theater student at UNC Pembroke. Matthew Jacobs and Steve Chambers are the meddling fathers. Jacobs is a Robeson County native with more than a decade of acting experience in the region. Chambers is a working actor from the Lumberton area who has been a stage performer since he was five.
Clay Rogers is El Gallo. Rogers is a native of Fairmont and has performed across the country for the past eight years. He currently works at Givens Performing Arts Center in Pembroke.
Denver McCullough, an Oklahoma native, plays Henry, the old actor. McCullough has performed in many regional theaters, including Fayetteville's own Cape Fear Regional Theatre. "Denver has a long history in Fayetteville's theater world," Koonce said. "He'll be easily recognized here."
The evening includes much more than dinner and first-rate theater. The event opens with a cocktail reception at 6 p.m. Cape Fear Vineyard and Winery will be on-site offering a variety of wines for tasting and sales. Located in Elizabethtown, Cape Fear Vineyard and Winery offers fine dining and lakeside lodging and hosts weddings and events.
At 6:30 p.m., dinner is served. The curtain rises at 8 p.m.
Special musical guests include the award-winning Fayetteville Chapter of the Barbershop Harmony Society, the Cross Creek Chordsmen.
"With a V.I.P. reception, door prizes, a great dinner, an awesome show, an exclusive wine-tasting, dinner entertainment by the Cross Creek Chordsmen — all culminating in a post-show meet-andgreet with the actors and a giveaway grand prize from Cape Fear Winery each night — this is truly a unique theater experience," said event producer and Up & Coming Weekly publisher Bill Bowman.
Tickets cost $75 per person and are available at www.fayettevilledinnertheatre.com or from 8:30 a.m. – 5 p.m. at the box office at Ramada Plaza. Proceeds benefit the Kidsville News Literacy and Education Foundation.
PHOTO: Matt (Ryan Ransom) defends Luisa (Amber Jansen) from swashbuckler El Gallo (Clay Rogers) and his gang (Wynona Oxendine and Dakota Hammonds), while the fathers (Matt Jacobs and Stephen Chambers) are excited by the whole plan.