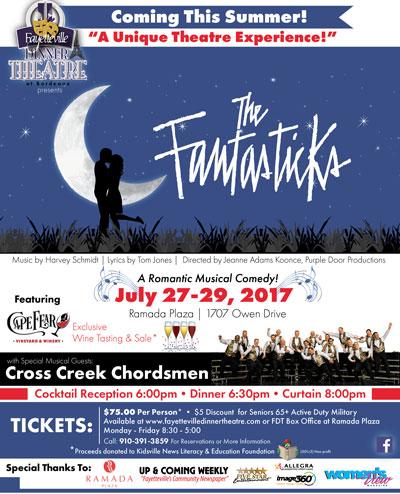 The timing couldn't be better for the local theater scene. Good things are happening. The Cape Fear Regional Theatre has a new artistic director, and Fayetteville has a new live theater venue. We are "moving on up!"
This being the case, I'm yielding my editorial space this week for the awareness and promotion of the newest cultural venue coming to our community. This will be an exciting week for Fayetteville. On Thursday, after an absence of more than three decades, the curtain will rise on the Fayetteville Dinner Theatre at Bordeaux, which is returning to the Fayetteville, Fort Bragg and Cumberland County
community. July 27-29 the Ramada Plaza Convention Center and Up & Coming Weekly, in conjunction with Purple Door Productions, will present the wonderful and delightful romantic musical comedy "The Fantasticks." This is one of the most popular and continuous-running musicals in the world. It is the longestrunning off-Broadway play of all time.
The Fayetteville Observer's Rodger Mullen wrote an excellent feature on the show and the production company in the Family Life section of Sunday's newspaper. You can read it here: http:// www.fayobserver.com/news/20170723/ dinner-theater-returns-to-fayetteville.
So, no more four-hour round trips to Greensboro. Hallelujah for that!
"The Fantasticks" is being billed as "A unique theater experience." And, it will be. I promise.
See the details below and check it out for yourself at www. fayettevilledinnertheatre.com. We hope to see you there. Thank you for reading Up & Coming Weekly.
PHOTO: Go to www.FayettevilleDinnerTheatre.com to learn more.