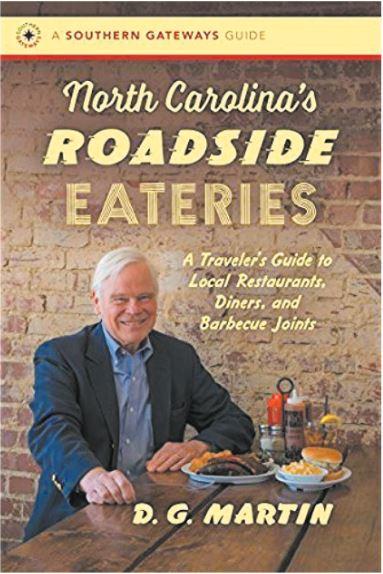 Can you believe it has been almost a year since I last wrote a column about local countrycooking eateries, my favorite stopping places when I'm on the road?
My editors have been kind enough to let me write about eateries every few months or so in place of my usual topics such as books and politics. It turns out that the foodrelated columns are almost always the most popular of all.
I confess I have exploited my editors and readers by getting them to tell me about their favorite stopping places when they are traveling North Carolina roads. Then, I used their reports to write more columns about eateries. All of that help eventually led to the descriptions of more than 100 eateries featured in "North Carolina's Roadside Eateries: A Traveler's Guide to Local Restaurants, Diners, and Barbecue Joints."
"Roadside Eateries" was designed for regular travelers with an adventuresome bent. It is for those who would rather experience a special or unusual local favorite restaurant at mealtime than eat another quick meal at one of the ubiquitous national chains.
Since you and other readers and editors helped write that book, you are entitled to a report about how it is doing. There is good news and some bad news.
The good news is that the book is selling well and has gotten good reviews. The publisher, UNC Press, is pleased. Folks seem to like the way the book is organized along the routes of the interstates so that it is a good glove compartment resource and reference. If you do not have the book, you can see a list of the eateries covered and read the introduction and a sample chapter at: https://unc.flexpub.com/shelfpreview/oEEpO.
But there is bad news too. A few of the book's favorite restaurants have closed. Fuller's in Lumberton was destroyed by flooding after Hurricane Matthew. The Acropolis in Cornelius sat on ground too valuable not to sell. The owners of Angelo's in Graham just wore out. We know such things happen, but each one still makes me sad.
More bad news. Some readers tell me they wish that "Roadside Eateries" had not restricted itself to restaurants near the interstates. They say, "There are plenty of other great eateries and barbecues in other parts of the state and along other North Carolina roads."
To respond to these comments, I am considering another book to complement and supplement "Roadside Eateries" by covering more North Carolina highways. Many of the roads in the U.S. highway system are as important as some interstates, and they cover North Carolina more completely. For instance: U.S. 64 runs almost 600 miles from Murphy to Manteo and into Tennessee, U.S. 74 begins near Murphy and runs to Wrightsville Beach, and U.S. 17 runs along our coast from Calabash through New Bern and Elizabeth City to the Virginia line.
Along these highways and others with numbers like 70, 264, 501, 421 and the iconic U.S. 1, I hope we can assemble a group of local eateries where the food may be modest, but tasty enough to attract the locals.
I want to be sure to include some classic favorites such as King's Barbecue in Kinston, TL's in Manteo, the Daniel Boone Inn in Boone, Shatley Springs in Crumpler and West Jefferson, Cyprus Grill in Jamesville, Short Sugar's in Reidsville and lots of similar ones that I am counting on you to recommend.
The new book would be a great project, but I am not sure I have the strength to take it on right now — certainly not without your help and willingness to suggest your favorites. So let me hear from you. Write me at nceateries@yahoo.com and share your favorites.