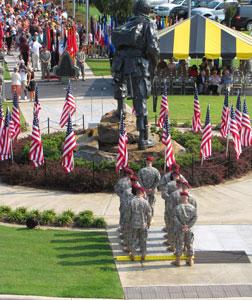 It's a rarity to find an area, like Fayetteville and Fort Bragg, so utterly defined by the presence of the United States Army. The community understands both serving and respecting the armed forces, as though "Airborne" were written in its very DNA.
Hundreds of men and women are brought into Fort Bragg's fold every year. The base also seeks to honor the veterans who have made personal sacrifices while creating history here at home and abroad. On Aug. 19, the Airborne and Special Operations Museum celebrates National Airborne Day from 9 a.m. to noon.
The event will coincide not only with the 77th anniversary of the U.S. Army's airborne forces, but also the 17th anniversary of the museum itself. It officially commemorates the first jump of the Army Parachute Test Platoon in 1940.
Following an opening ceremony, the event promises several special displays for attendees.
Scott Pelletier, curator for ASOM, said Fort Bragg's Garrison Operations Team began planning the event in April. "They have been working closely with the 18th Airborne Corps, 82nd Airborne Division and (Special Operations Command) units as well as the city (of Fayetteville) to ensure a great event," Pelletier said.
Along with an array of food vendors and a performance by the 82nd Airborne Division "All-American Chorus," a high-altitude lowopening jump demonstration by the Golden Knights and Black Daggers will be sure to delight spectators. The Golden Knights and Black Daggers personify the old phrase "flying with style."
In addition, modern-day equipment and vehicles will be showcased on the museum's parade field, including a special forces "A-Team," infantry squads with all assigned weapons and an improvised explosive device display. An ambulance, as well as vehicles mounted with missile, grenade and machine guns will be on display.
The "mock door" demonstration and parachute donning station will also allow citizens to see and feel the demands of jumping out of airplanes for a living.
But National Airborne Day isn't reserved for just the present. It's an ode to the past, too. Both American and German World War II re-enactors in full uniform and equipment will be in attendance at ASOM.
"Soldiers and veterans are proud of their airborne heritage," Pelletier said. "It gives them an opportunity to remember and reflect with their families and friends."
Anyone who has walked the winding labyrinth at ASOM will tell you what an immersive experience it truly is. Every major wartime event in the last century is shown in full scope, with documents, artifacts and videos. Actual aircraft is mounted from the ceiling. You will hear the sounds of gunfire. History itself comes alive.
"I'm proud of the ASOM and everything it represents," Pelletier said. "I'm honored and humbled to be a part of such a proud tradition."
National Airborne Day is free and open to the public. For more information, visit www.asomf.org.