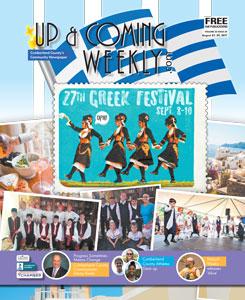 Get ready for a three-day spectacular that offers free admission and a chance to immerse yourself in Greek culture. Sts. Constantine and Helen Greek Orthodox Church hosts its 27th Annual Greek Festival at the Hellenic Center, 614 Oakridge Ave., Sept. 8-10.
This year's festival is co-chaired by Steve Goodson, Alfred Barefoot and Katherine Faful. All three are longtime members of the church; Faful's father was a founding member.
The Food and Community
The food is, of course, always a big draw for festival-goers. But it's not just about the delicious assortment of gyros, lamb shank, Greek salads, "spanakopita" (spinach pie) "pastichio" (Greek lasagna), "souvlaki" (skewered meat and vegetables) and more. And no, it's not just about the desserts — handmade baklava a perennial favorite — either. The food is important because it brings Fayetteville's Greek community together in an astonishing way, and it's an avenue for the church to invite others to share in and learn about Greek culture. Kelly Papagikos, who has helped with the festival for the past nine years and is married to the church's pastor, shared her observations:
"(About) 90 percent of the restaurants (here in Fayetteville) are Greek-owned," she said. "They all put aside their own businesses to cook for the festival. They are tireless in the kitchen. All of these guys have their own jobs and (they) come every year, putting everything else they have to do aside."
The primary and long-serving leaders of festival kitchen operations are Greg Kalevas, owner of Chris's Steak & Seafood House; Jimmy Hondras, who works with Kalevas; and Tony Kotsopoulos, head chef at Luigi's. Kotsopoulos helped start the conversation about bringing the community together for a Greek festival in Fayetteville in 1988. All three men have helped in many capacities since the festival's inception in 1991.
Papagikos said the made-from-scratch Greek pastries and desserts are prepared by an army of 15-20 dedicated ladies of the church. The women comprise two philanthropic groups: Philoptochos (Friends of the Poor) and Daughters of Penelope. "The baked goods sell so well; everybody in town loves the freshness," she said. "They stock up for Christmas with the baklava!"
This year, the festival also debuts a drive-through to serve people who can't stay but still want to grab the once-a-year specialty foods. Friday and Saturday afternoons, patrons can purchase gyros, ten-piece packages of pastries and a drink from the drive-through. For people who are able to come and stay, free cooking classes are offered so attendees can make some of the dishes at home.
Music, Dancing and Shopping
Paskali, a local band comprised of five musicians who play traditional and contemporary Greek music, has been delighting festival crowds for about 20 years. Papagikos said the group, new to this festival, is very engaging and knows how to make people want to get up and dance.
And that's the goal. Greece is home to over 200 cultural dances, each representing a religion, village or island. The church's Hellenic dance troupes will dance throughout the festival wearing traditional costumes, both in performances and in educational demonstrations with an emcee who will briefly explain the history of the dances.
Papagikos said the dance troupes range from kindergarten to high school students and that children of all backgrounds love joining in and learning the steps at the festival. "Greek dances are usually danced in a circle holding hands to represent life and eternity, togetherness and love," she said. "These kids learn how to dance from the time they know how to walk; it's embedded in them." Dances will include "kalamatianos" (a popular folkdance), along with many other dances from across Greece's regions and islands.
Vendors from all over the city come every year to set up an "agora," modeled after a Greek marketplace. Browse through Greek jewelry, leather, knickknacks, videos, music, embroideries, rugs, clothing, folk art and icons. Also, pick up Greek cooking ingredients you can't find at your local grocery store.
Field Trips, Church Tours and Raffle
Friday morning, after a church service, the festival will host field trips for students from local schools. There will be a tour of the church and four stations: tasting Greek foods, practicing Greek dances, learning Greek history and browsing Greek vendors' items. "Usually we have about 100-150 kids," said co-chair Steve Goodson. "Kids get a hands-on experience of what it's like to experience another culture — from the faith to the food to how people interact with each other."
Children's activities will run all three days of the festival in the large field in front of the food tent. Historically, activities have included collaborations with the Fayetteville Police Department, the Cumberland County Sheriff, the State Patrol, Cumberland County Libraries and the Fayetteville Fire Department.
The church will be open for tours throughout the festival for those who want to learn more in-depth about the tie between faith and culture for the church. Tour times are 5:30-7 p.m. Friday, 2-5 p.m. and 8 p.m. Saturday, and at 1 and 3 p.m. Sunday. If you miss a tour, though, the church will be open all day for anyone to come in and explore.
Every year, one extremely lucky attendee wins either $2,000 cash or two round-trip airfares to Athens, Greece. Raffle tickets only cost $5 each or 5 for $20. Guests who purchase raffle tickets are also automatically entered into fun hourly drawings. Greek Fest raffle tickets are $5 each or 5 for $20.
"Philoxenia"
The Greek word "philoxenia" translates literally to "love of strangers" or "friend to the stranger." It is used in association with Greek hospitality. Goodson said he associates the word with a love for laughing, eating and dancing, too. "That's probably the best way to explain it — why so many people come," he said. "Every year, the circle of friends gets bigger and bigger because of the festival," Papagikos said.
The festival runs 11 a.m. – 10 p.m. on Sept. 8-9 and noon – 6 p.m. on Sept. 10. If you have trouble finding the Hellenic Center at 614 Oakridge Ave., follow the blue signs that will point the way.
Parking is available in front of the church property and in the educational building parking lot. Street parking is on Woodland Drive and in the surrounding area. Free parking is also available at the St. John's AME Zion church next door and at Snyder Memorial Baptist Church, with bus transportation to the festival Saturday. Find out more at www.stsch.nc.goarch.org/greek-festival.com.