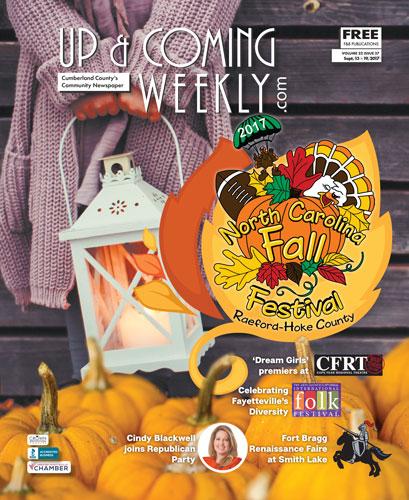 This year's NC Fall Festival is set for Sept. 8-16. It's nine days of fun-filled events culminating in a full day of shows, entertainment and more. Once known as the NC Turkey Festival, the NC Fall Festival brings the community together for a week of activities.
The festival opens with the Turkey Bowl as the Hoke High Bucks take on the Lee County Yellow Jackets at Raz Autry Stadium. The pregame show starts at 7 p.m. Kickoff is at 7:30 p.m.
On Sept. 9, a Sip & Paint is scheduled for 6 p.m. at Beans Gone Wild. "Sip & Paint is a fundraiser for the festival," NC Fall Festival Executive Director Melissa Pittman said. "The facility will hold 60 people. (The painting you will make) is a cute picture of a fence at night with a black cat sitting on the fence and with pumpkins in front of it. People can sign up on our Facebook page."
Monday, Sept. 11, There will be a 9/11 Remembrance Ceremony at 8:30 a.m. at the Hoke County Courthouse. "The ceremony is a very short and sweet time to remember those we lost as well as the first responders who suffer from injuries and illnesses sustained on 9/11," Pittman said. "It is also to honor our first responders here because they run in (to harm's way) when everyone else is running out. We acknowledge law enforcement and the military community, including wives and children, because those families give up so much for us to have the freedom to do things like have a festival."
At 5:30 p.m., it's Manic Monday Music at The Wing Company. The concert is free. "Manic Monday Music is like a street dance," Pittman said. "If you have those Monday blues, come out to (have) wings in Raeford on the corner of Harris and Main Street. The music is free, and we have three bands: Violent Smoke, Trigger and Nations Band. The music starts at 6 p.m. and will last till 10 p.m. All the groups involved in the fair have roots in Hoke County."
The Raeford Civic Center will host a card tournament at 7 p.m. Tuesday, Sept. 12. It costs $7 per person. "You can have as many at the table as you like and play any game you like," Pittman said. "People play bridge, rummy, phase 10, you name it. Throughout the night, we give out prizes for game winners and door prizes."
Pittman noted that the tournament started 30 years ago as a fundraiser for the Raeford Woman's Club. It was so popular that when the club disbanded, the event organizers decided to keep the tournament. Call (910) 904 2424 to sign up. "There are finger foods and different snacks and tea, water and lemonade for everyone to drink," Pittman said.
Wednesday, Sept. 13, is Senior Day and will be held at the Raeford Civic Center. The fun starts at 10 a.m. with bingo. It costs $5 per person. There is a 100 person limit. "We have a guest speaker who will speak about exercises that are safe to do in chairs, for people who are afraid of falling and have balance issues," Pittman said. "We also serve a bagged lunch: a sub, chips and dessert. Then we play bingo for prizes. We try to make sure no one leaves empty-handed. This event is for seniors over 55. Call (910) 904-2424 to register.
On Thursday, Sept. 14, there will be a parade on Main Street at 5:30 p.m. "The parade is one of the biggest events of the festival," Pittman said. "Every school in the county has a float in it. We have five bands in it and 75-90 entries."
Friday's schedule includes a Stuffin' and Stompin' Dinner from 5-8 p.m. at West Hoke Middle School. The dinner costs $8 per person. Pittman said the dinner was started years ago by Clara Pope to raise money for the now-defunct Raeford Woman's Club. "Now, we partner with nutritional services," Pittman said. "We split the proceeds with them."
The dinner includes turkey dressing, green beans, yams, cranberry sauce and crusty rolls. "The rolls are to die for," Pittman said. "I think people come for that. Our child nutrition employees cook and prepare the meals."
The final day of the fair, Saturday, Sept. 16, includes a Corn Hole Tournament at 10 a.m. in the grass lot beside the main stage. Registration for the tournament starts at 9:30 a.m. At 11 a.m., there will be a car show on Main Street. Registration and sign in are at 10:30 a.m., and judging starts at 11 a.m. The Be Our Guest Kids Zone opens at 9 a.m. It is located near the library stage and closes at 4 p.m. There will also be pony rides from 9 a.m. to 4 p.m. near the library stage.
"We will also have a scavenger hunt going on," Pittman said. "Anyone can participate. Pick up a map at the festival tent. There are 10 locations in the festival ready to stamp maps/passports."
Main Street will be lined with Festival vendors from 9 a.m. to 4 p.m. Pittman noted that that are more than 30 food vendors offering everything from collard green sandwiches to egg rolls to funnel cake, brisket, hot dogs and more. More than 100 vendors selling crafts and commercial items will be at the fair as well. "It's mostly handmade items this year," Pittman said. "We will also have information booths for different organizations."
The Library entertainment stage has a full schedule of entertainers from 9 a.m. to 4 p.m. Events open with a prayer and Carlton and Wanda Barber. Performers scheduled throughout the day are:
• 10 a.m. Jason and Michelle Melton
• 10:30 a.m. Holding Strong
• 11 a.m. Sheeniah
• 12 p.m. Rooster Roo
• 12:30 p.m. Break/announcements and Rooster Roo
• 1 p.m. Winslow Bartlett Jr.
• 1:30 p.m. Megan Judd
• 2 p.m. Dowdy Boys
• 2:30 p.m. Genesis
• 3 p.m. Men in Christ
• 3:30 p.m. JPC
The main stage, beside the Raeford Chamber of Commerce, opens with Glory Rain at 9 a.m. The schedule for the rest of the day includes:
• 10 a.m. Violet Smoke
• 11 a.m. GraceLyfe
• 1 p.m. Black Velvet
• 2 p.m. Bill and Paul
• 2:30 p.m. Trigger
The fair concludes with the Fight Durty Concert Saturday evening in Armory Ballpark. Gates open at 7 p.m. The concert honors those who have fought and won against cancer and who struggle with chronic illnesses. The fair will donate $1 for each ticket sold to Liberty Hospice and Home Care for Hoke County residents. At 7:25 p.m., the All Veteran Group Parachute Team will sky dive into the concert. At 8 p.m., The Sand Band will perform. Tickets cost $10 per person. Concessions will be available for purchase. This is a rain or shine event. No glass containers are permitted on the premises. Concertgoers are invited to bring lawn chairs and coolers.
Call (910) 904 2424 or visit www.facebook.com/ncfallfestival to learn more.