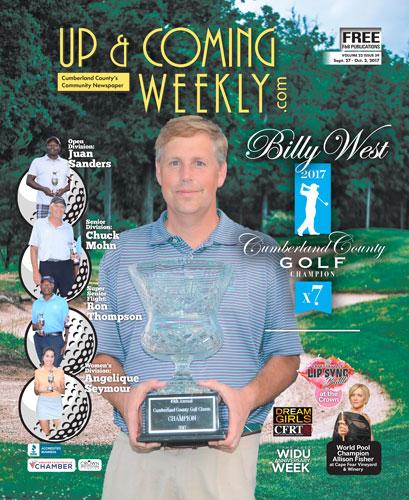 Twenty years ago, Billy West won the Cumberland County Golf Championship Classic at Gates Four Golf and Country Club. Two weeks ago, on Sept. 15-17, he shot the same three-day total on the Gates Four course as he did in 1997 — even-par 216 over three days — and earned his seventh CCGCC win.
West, who serves as Cumberland County's district attorney, named two pivotal moments that determined his victory. The first was at the seventh hole on Friday, in the first round of the tournament. West was one under par through the first six holes.
"And then I came to the par-3 seventh hole and hit a shot a little to the left — my tee shot — and it plugged up under the lip of the bunker," he said. "I've been playing in this championship for 26 years, and it was the worst break that I've ever had. If I would've hit 10,000 balls, I could not have gotten it to go up under the lip of the bunker like that."
It took him three shots to get the ball out, and he ended up posting a triple bogey. At that point, West, said, it could have all been over. "But I really had a good focus and determination all weekend, and I said, ... 'let's not let this hole define the tournament. I didn't want to look back and say 2017 was the year I had the triple bogey in the first round and that was the end of the tournament for me.'" He bogeyed again on the next hole, which he attributed to trying too hard, and then he played 3-under-par for the rest of the tournament.
He ended with a 74 for the first round while last year's champion, Thomas Owen, led with 70. Owen continued his lead on Saturday. It was in the final holes on Sunday that West's second pivotal moment came.
"Years down the road, it's the one I'll remember," he said. West caught up to Owen early in Sunday's round, and they were back and forth all day. West led by one coming into the par-3 15th hole. He again hit his tee shot into the left bunker, which is where he'd hit it when he made the triple bogey on Friday.
"My bunker game ironically had been really good all weekend aside from that shot on Friday," West said. "I ended up making the bunker shot for a birdie. I've been playing competitive golf for 35 years, and I don't know that I've ever made a bunker shot in a pressured situation."
West and Owen both made par on the last three holes, which meant West maintained his twoshot lead and took the championship title with a finalround score of 72.
West said this win was particularly special to him for several reasons, the most significant being his family. He said his father Bill has been there for every single one of his wins, and his wife Suzanna for almost all of them. But this was the first year he's been able to share a win with his whole family — including son Will, 8, and daughter Lila, 4.
"My daughter was not even born (the last time I won) in 2011, and to be able to win this year, … and for us to be able to experience it as a family was very special," he said. "To be honest, it was an opportunity I didn't know whether I would have or not." He cited his age and the fact that he'd finished second in four out of the five tournaments between now and his last win as reasons he'd been unsure.
"The seventh victory seemed to be elusive," he said.
Another factor was the course itself. The CCGCC rotates location but has been held at Gates Four several times since West's win there in 1997. West had placed second a couple of times but hadn't managed to win again at that course until now. "Gates Four, because it is a very long, 7,000-yard-long golf course, is not traditionally the best setup for me," West said. "For me it was probably the least likely place to pick up my seventh win, particularly at 43 years old. You just never know in golf; that's what makes it such a great game."
Twenty-eight-year-old Owen finished second in the tournament with a final-round score of 77 and a total score of 218. "I was really pleased with the way that I played, … but kind of towards the end I got outplayed by Billy," he said. "He's a great friend and a great competitor."
Owen called the tournament a learning experience. "We always joke around that if we could combine our games into one, we'd have something pretty special because we both have different strengths." Owen said he definitely has a length advantage over West, which helped on the Gates Four course.
As for Wests' advantage? "I feel like he just has this level of focus that is unmatched," Owen said. "When you're playing in a three-day golf tournament, 54 holes, it's kind of a marathon. He understands that. He knows the shots you hit on the first day are just as important as the shots you hit on the last three holes of the tournament when it comes down to the wire and everybody's watching. Maintaining that level of focus is a lot easier said than done, and I think that's ultimately where he got me."
West was frank in his remarks about Owen: "I said it after the tournament, and I don't mind saying it: I think day-in and day-out, Thomas is a better player than I am now. I was just a little bit better on Sunday. … Thomas and I are good friends, and I'm ... humbled that he looks at me as a bit of a mentor with his golf game. I've finished second to Thomas six or seven times (at other local tournaments) in the past three years."
Matt Hudson, a consistently competitive CCGCC player, finished third at 225. Gary Robinson, who holds a record eight CCGCC wins, tied with Ryan Hull for fourth at 228.
This year saw the first time three former CCGCC champions were grouped in the final round: West, Owen and Robinson.
Juan Sanders won the Open Division at 230, Chuck Mohn won the Senior Division at 226, and Ron Thompson won the Super Senior Flight at 233.
Angelique Seymour, a 16-year-old junior at Liberty Christian Academy, won the inaugural Women's Division by 53 shots at 227. Seymour is no stranger to accolades in athletics. She placed in the top three of her division in the 2012 USA Taekwondo National Championship in Dallas, Texas, when she was just 12 years old. A yearlater, after receiving her black belt, she changed course and began to focus on golf. Her dad had suggested she try it out as a good possibility for getting college scholarships.
"At first I was a little bit hesitant, but … I fell in love with the game," she said. She said she plays an emotional game, which she knows "isn't the best idea," but that it's just part of who she is.
Seymour said she definitely plans to enter again next year and that she hopes to talk some of her friends into entering as well.
DeeDee Jarman, Methodist University's deputy athletic director, assisted tournament coordinator Bill Bowman in implementing the Women's Division. "What a performance Angelique put on (for) the three days of the championship," Jarman said. "She is an incredible young lady, and she has a very promising future in golf." Jarman hopes to use word of mouth to grow the division from its first-year showing of four women.
Scooter Buhrman, Gates Four PGA professional, has helped with the tournament for years and won the champion title in 2007. " I think this was a great tournament," he said. "We had 87 players, about 25 more than last year. So it did grow, and we're hoping next year with the 50th anniversary we can get 100 to 120 players."
The 50th CCGCC will again be held at Gates Four and will see a revival of the Past Champions' Dinner, a tradition that lasted 20 years until it was last held in 2009. The dinner occurs the week of the tournament prior to the competition and invites all the tournament's past winners to enjoy a meal together.
"That will be special to see some of those people that are no longer competing but can still come out and share some of the stories of the heyday of the tournament," said Kevin Lavertu, general manager at Gates Four. "When you start building events that go on for 20, 30, 50 years, … it means a lot to many of the players in the community. Many will tell you that they play a lot of tournaments throughout the state and nationally, and this tournament is one of the ones they hold most near and dear and most look forward to playing in, year-in and year-out."
"The fact that it is 50 years old is pretty remarkable," Owen said. "Think about it. That's something local here that's been going on for 50 years." West agreed. "I have a love and a reverence for the history of the tournament. … The 50th anniversary (is) an opportunity to celebrate the history and tradition of the tournament and what it's been through the years. I think it kind of comes at a perfect time, as we move forward with the tournament, getting it back to the prominence it once had.
"Probably half of the people in the championship division I hadn't played with before or didn't know, and for many years, that was not the case. … We definitely have got a young group of golfers coming through."
West has been playing in the tournament since 1991, and he won his first CCGCC title in 1994 when he was 19 years old.
Visit CumberlandCountyGolfClassic.com to see a full list of scores from the 49th CCGCC. To learn more about the 50th anniversary tournament, call (910) 425-6667 ext. 224.