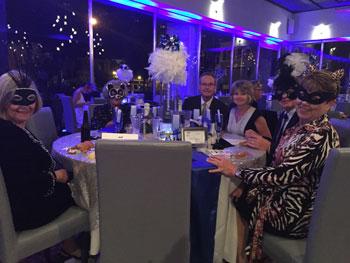 Fayetteville's Child Advocacy Center works with 19 community agencies, from the District Attorney's office to Cumberland County Schools, to support victims of child abuse in an integrated, efficient and empathetic way. Every service the CAC provides comes at zero cost to the child's family, as financial burden can be an impediment to getting child abuse victims the help they need. The CAC's annual Pinwheel Masquerade Ball & Auction to Unmask Child Abuse is one of the ways it raises funds to keep its services free of charge. 2017 marks the fourth year of the Pinwheel Ball, which will be held Saturday, Oct. 14, at the Metropolitan Room in downtown Fayetteville.
The gala invites guests to get creative and have fun dressing up. As in past years, awards will be given out for best masks in the categories of male, female, couple, group, overall ensemble and most unique.
The evening also features a DJ, dance demonstrations, a photo booth and live and silent auctions with items donated from all over the county and state. Big items include a football ticket package to the UNC vs. vs. the Miami Hurricanes game, tickets to the 2018 NCAA final four basketball tournament, a trip to Bali, a one-week stay at a condo in Myrtle Beach, and tickets to a Fayetteville Symphony Orchestra concert.
Smaller items include themed gift baskets and locally made items like jewelry and hand-painted mugs. Vanessa Deering, co-chair of the event with Ann Shaw, said the live auction is her favorite part of the night every year. "We have so much fun watching the reaction of the bidders, especially when there is a bidding war," she said.
Trish Neely, culinary chair of the event for the second year in a row, said guests can expect delicious food from Chris's Steakhouse, R Burger, Dorothy's Catering 2, Evans Catering, Elite Catering, Sherefe, Sweet Palette, Sweet Surprise Candy Buffet and Agape Bakery. Specific menu items include crab dip, chopped sirloin, jalapeno sliders, spanakopita and special pinwheel cookies. Beverages will be provided courtesy of Healy Wholesale, The Wine Café and The Coffee Cup.
Roberta Humphries has served as executive director of the Child Advocacy Center since 2009. She explained that the Pinwheel Ball is named for the initiative that Prevent Child Abuse America started in 2008, Pinwheels for Prevention. "The blue ribbon used to be a symbol for child abuse prevention, and (nine) years ago … they switched and came out with the symbol of the blue pinwheel," Humphries said. "Basically, they wanted to change the way our nation thinks about child abuse prevention." As stated on the Prevent Child Abuse America site: "What our research showed, and what our experiences since then have borne out, is that people respond to the pinwheel. ...the pinwheel connotes whimsy and childlike notions. In essence, it has come to serve as the physical embodiment, or reminder, of the great childhoods we want for all children."
Securing the future that all children have the right but not the access to takes organizations like the CAC and the community's support of them. Deering said a committee of 15 volunteers helped put the Pinwheel Masquerade Ball together while more volunteers help set up and tear down. "I love how the participants are genuine in giving and supporting such a wonderful organization," she said. "It's not truly about getting a deal on (an auction package), it's about raising money to help this organization. It truly shows the love our community has for children and their well-being." The CAC is hoping to raise $45,000 this year, all of which will go toward providing support and a voice to children in this community. The organization saves the community about $700,000 a year with its integrated approach.
Tickets to the Pinwheel Masquerade Ball on Oct. 14 cost $100 per individual, $175 per couple and $1,200 for a table of eight. They can be purchased in person at the CAC at 222 Rowan St. or online at www.CACFayNC.org.