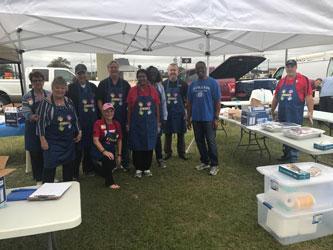 The Kiwanis Club of Hope Mills has been active and productive in the last few weeks. Sept. 26, Kiwanis hosted its annual banquet with District 11 Lt. Gov. Susan Chriscoe as the special guest of honor. Dwayne Jacobs was awarded Kiwanian of the Year and recognized for his dedication and hard work.
During the Kiwanis meeting held Oct. 10, the Fayetteville Marksmen assistant general manager/director of ticket sales, Nathan Driscoll, was a special guest. He spoke of the Fayetteville hockey team's mission and goals and how they apply to the community. He noted that civic organizations such as the local Kiwanis Club are key entities in bringing the community together along with the local team to better benefit the youth. Driscoll, husband and father of five, said he looks forward to working with local civic groups to formulate programs that will provide ways for families to interact with the Fayetteville Marksmen.
The Kiwanis Club held a successful barbecue fundraiser Friday, Oct. 13, and sold over 800 plates. This raised money to help with community efforts such as buying school supplies for local children, helping provide for the local K-Kids and high school Key Clubs and helping low-income families.
Jan Spell, Kiwanis treasurer, agreed that the sales from the barbecue fundraiser were a blessing. "God is great," she said.
Members from the Kiwanis Club of Hope Mills will travel to Lake Waccamaw Oct. 28 to participate in Kiwanis One Day. This is a day in which Kiwanis clubs from all over the world take part in a variety of community service projects. Kiwanis of Hope Mills will be helping the Boys and Girls Homes of North Carolina with different services from yard work to mentoring the children of the Boys and Girls Home.
"It's surreal," Jan Spell said. "This is the one day where every Kiwanis club in the world works together on the same day to make it better. It's this day when you learn what being a Kiwanis (member) really means."
The next meeting will be held Oct. 24 at Mi Casita's in Hope Mills at 5:30 pm. New members are always welcome, and there is never a shortage of community activities in which to partake. For more information on becoming a member, or if you have any questions, call the Kiwanis of Hope Mills at (910) 426-7256.