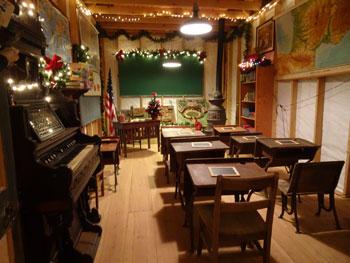 When the Dentons decided to help the local tractor club with a fundraiser in 2010, the idea was fairly simple: line up tractors and string them with lights to create an impressive and colorful display, then give guests rides on the tractors through the woods to see festively lit farm buildings. Today, the Christmas Lights at Denton Ridge span four family properties across about 75 acres. Every Friday and Saturday evening in December, from 6-9 p.m., unless it is raining, Denton Ridge is filled with twinkling lights, music, a live Nativity, a bit of history and a touch of nostalgia, bringing old-time traditions and down-home goodness to the Christmas season. It will bring back sweet memories for adults and create new ones for youngsters.
When guests arrive, they take a tram ride on a festively lit path through the woods. The first stop is a live Nativity scene. The Dentons wanted to include Jesus' birth, death and resurrection in this part of the event, so the Nativity includes three crosses and an open cave with two angels inside. While the manger scene is a live one, event spokesperson Debbie Denton noted that there are wooden camels, and the wise men are mannequins. Mary and Joseph are real, though, as are the goat and donkey.
At the venue, visitors can wander the grounds. There are pony rides, several fire pits throughout the property and snacks available for purchase. "We have popcorn, snickerdoodle cookies, hoop cheese, funnel cakes, candy apples and hot chocolate and apple cider, along with marshmallows for roasting," Debbie said. "We even sell s'mores kits."
There are several buildings to explore as well, all decorated for the season. The Model T car shop houses a 1925 touring car belonging to Debbie's husband. "It is filled with vintage tools and other interesting things," Debbie said. "It is a man cave for back in the day."
The barn features a bluegrass band. "They are really fun and easygoing," Debbie said. "They take requests and do sing-alongs, too. People always enjoy them."
There is a one-room schoolhouse furnished like a 1920s classroom. "The desks have inkwells, and there is a potbellied stove and old books and maps," Debbie said. "Often, church services were held in schools like this, so there is an old pump organ from the 1800s in there, too."
The wash house has a 40-gallon wash pot encased in brick. "This is how they used to heat water, cook food, render lard and wash clothes," Debbie said. "We have old cast iron irons to press clothes, old bottles of bleach – it looks like a wash house from the 1920s."
The old-timey country store is one of Debbie's favorite elements. "It is set up with open candy jars lining the counter, just like when I was little. You can even buy a coke and leave with a paper bag filled with peanuts to eat with it."
The big house is another favorite, with a large room set up to host a feast. The tables are set with Christmas china, and the shelves are stacked with Nativities. The open chimney beckons guests to come in and look around.
For the little ones, though, visiting Santa is often the highlight of their visit. The Santa house is decorated with vintage toys and a working train set. "Santa is just wonderful," Debbie said. "He tries not to rush anyone and really takes times with the kids and listens to them." Guests are invited to take pictures with Santa.
Dec. 2, Denton Ridge hosts a fundraiser for Baptists on Mission to support disaster relief. Bring five cans of food and get in for $5. Entrance to Denton Ridge costs $10. Children 3 and under are free as are guests in wheelchairs. It's open Friday and Saturday through Dec. 30 and Sunday, Dec. 17. Visit www.dentonridge.com for more information.