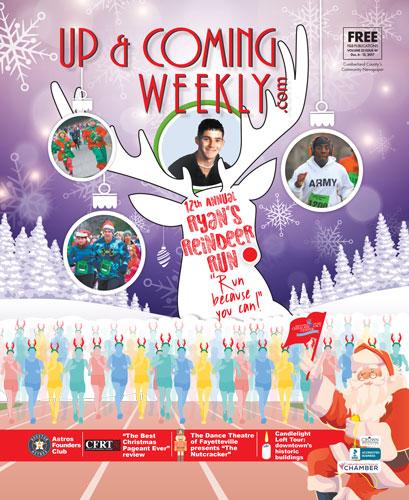 The 12th Annual Ryan's Reindeer Run takes place Saturday, Dec. 16 at the Medical Arts Complex Field in downtown Fayetteville. The run is more than just a good way to counter the extra calories from holiday festivities, though. It is a celebration and a chance to do good, all while having fun.
Ryan's Reindeer Run is named for Ryan Patrick Kishbaugh, a remarkable young man with a bright future. He graduated second in his class and was accepted to Princeton University. He was a volunteer, receiving the Governor's Award for Outstanding Volunteer Service in 2001. He was determined. He was passionate. He was a fighter. He loved sports, and he loved to run.
Ryan was diagnosed with cancer his senior year in high school. He lost his battle to Hodgkin's Lymphoma 15 months later, on Jan. 1, 2003.
Ryan's Reindeer Run is a celebration of his life – because he loved life and lived each day to the fullest. Some time after diagnosis, Ryan wrote in his journal, "But every morning when I would crawl out of bed, dreading the oncoming day, I stopped thinking about winning and losing. I experienced victory every morning by merely waking up, because with every day I lived, I won, and cancer lost. I didn't try in school so that I could be a winner, and I didn't sprint up and down the basketball court to achieve any victory. I didn't do it for the praise or the glory.
"So many people throughout this whole ordeal have asked me why I chose to do what I did. I always told them that I really didn't see much of a choice in it. Now I realize there was, because so many of us sit on the sidelines and watch. As for me, I just love to run."
Ryan also wrote a book about the physical and emotional challenges he faced as he tried to live as normal a life as possible with a fatal disease. The book is called "Run Because You Can" and is available at www.ryansreindeerrun.com.
After Ryan died, his family wanted to do something to honor his memory and allow him to continue to make a difference in the world. "He was a wonderful athlete and loved the holidays, and having a holiday run just seemed like a nice way to raise money for the community and provide a fun yet challenging event for individuals and family," said Ryan's mom, Roberta Humphries, Child Advocacy Center executive director. "It was also an opportunity for Ryan's friends and family to get together and remember his joyful spirit."
One of the things that makes this run different from others is the costume contest. There are categories for male and female runners. "It is important to register with the costume judges so they are sure to see your costume," Humphries said.
Ryan's Reindeer Run is also unique in other ways. There are family awards and reindeerthemed trophies, and all children under 13 receive finisher medals. "Also, although only a 5k, it is very challenging with many hills," Humphries said. "That was designed purposefully because life is full of challenges with many ups and downs, and the run is meant to reflect that. People should feel a sense of accomplishment by completing this run. It is also conducive to those just wishing to walk."
The 5,000-meter run/walk starts and ends at the Medical Arts parking lot entrance on Hay Street. The route goes up Haymount Hill and meanders through the scenic Haymount area neighborhoods. Timing is provided.
While the run is a wonderful way to enjoy a healthy event with friends and family, it is important to Humphries that the event benefit the community. "The net profits of this run are returned to the community to support programs that I believe Ryan would have supported if he was still able to," she said. "Many of the programs supported through this event benefit children and individuals dealing with the diagnosis of cancer. To date, we have given back over $163,000 to various organizations from proceeds raised."
There are two entry categories – individual and family. Family entrants are not eligible for the individual awards. Prizes are awarded to the top three overall male and female finishers and the top three male and female finishers in the following age divisions: under 13, 13-16, 17-19, 20-24, 25-29, 30-34, 35-39, 40-44, 45-49, 50-54, 55-59, 60-64, 65-69 and 70 and over. All under 13 participants receive a finisher's award. Prizes are also awarded to the top three pet finishers and their owners, top three family finishers, best costumed runners, top three stroller runners and best decorated strollers.
A team trophy is presented to the school, club or organization with the largest number of participants. Include name of organization on entry form. There must be a minimum of 10 entries to be considered a group. This award is not based on time but on number of registrants. Groups must register by Thursday, Dec. 14.
Pets on a leash are allowed but must be controlled at all times. The run normally has between 800-1,000 registrants.
The race begins at 8:30 a.m. Dec. 16. Packet pickup and same-day registration are from 7-8:15 a.m. at the Medical Arts Complex Field, 101 Robeson St. Early packet pickup and registration are Dec. 15 from 5-8 p.m. at the Child Advocacy Center, 222 Rowan St. You may also register early online by visiting www.ryansreindeerrun. com or by searching for the event at www.active.com.