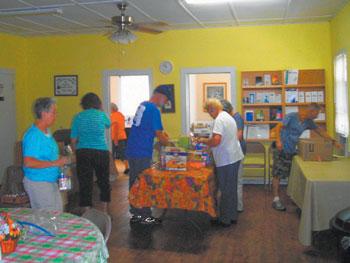 Activities
• Every Monday and Friday, the Alms House serves meals from noon to 12:30 p.m. and 5-5:30 p.m. Saturday meals are at noon, and Sunday meals are at 5 p.m. Free. Contact, Grilley Mitchell at (910) 476-3719 or visit www.almshousehopemills. com for details.
• Dec. 29 Support your local hockey team. Watch the Fayetteville Marksmen vs. the Roanoke Rail Yard Dawgs at the Crown. Learn more about the team and purchase tickets at www.marksmenhockey.com.
• Dec. 30 Celebrate Kwanzaa at Smith Recreation Center from 6-8 p.m. Bring your favorite food dish to share. Free. Call (910) 485-8035 for details.
Meetings
• Jan. 8 Hope Mills Chamber January Luncheon at Hope Mills Park and Recreation from 12:30-2:30 p.m. Enjoy a meal, network, and talk about the new year. Pivot Physical Therapy will be the guest speaker. Cost for lunch is $10. Purchase tickets at www.hopemillschamber.org.
• Alcoholics Anonymous meetings Mondays, Thursdays and Sundays at 8 p.m. at Hope Mills United Methodist Church, 4955 Legion Rd.
• Hope Mills Board of Commissioners Meeting first and third Monday of each month at the Town Hall Building at 7 p.m.
• Hope Mills Area Kiwanis Club second Tuesdays at noon at Buckhead Steakhouse (Sammio's starting in Feb.) and fourth Tuesdays at 6 p.m. at Mi Casita in Hope Mills. For more information, call (910) 237-1240.
Get involved
Join other motivated citizens on one of the town's boards, commissions, or committees. Contact the town for information on current vacancies and the application process: www.townofhopemills.com/directory.aspx
• The Parks and Recreation Advisory Committee – fourth Mondays at Hope Mills Recreation Center, 6:30 p.m. This committee seeks to recommend and plan programs of recreation activities and events. In addition to the regular membership, there are two liaison members who represent the Hope Mills Senior Citizens Club and the Hope Mills Youth Association.
• The Lake Advisory Committee – second Tuesdays at the Hope Mills Recreation Center, 6 p.m. The purpose of the committee is to advise and make recommendations regarding various issues pertaining to the safety and environment of the lake and preserving it as a valuable resource to the town.
• The Appearance Commission – fourth Tuesdays at Hope Mills Recreation Center, 7 p.m. This committee seeks to enhance and improve the visual quality and aesthetic characteristics of the town.
• The Senior Citizens Advisory Committee – fourth Wednesdays at the Hope Mills Senior Center, 4 p.m. The purpose of this committee is to provide insight and advice for the Senior Center Staff on programs and trips and to the providers of leisure services and activities for citizens 55 and older in the Hope Mills area.
• The Veterans Affairs Commission – fourth Thursdays at the Hope Mills Recreation Center, 7 p.m. The committee is comprised of town residents who are armed services veterans. Members advise the town on affairs related to its active and retired military citizens.
• The Historic Preservation Commission – second Wednesdays at Hope Mills Recreation Center, 5 p.m. The committee advises the governing body on issues related to historic identification and preservation.
Volunteer Opportunities
• Citizen's Police Academy The Training Department at the Hope Mills Police Department offers a training course for citizens to become more prepared and involved in the safety of their community. Download the application to get started: www.townofhopemills.com/DocumentCenter/Home/View/62.
•Firefighters The Hope Mills Fire Department is a combination department, which employs both career staff and volunteers. Find out the criteria and training requirements for volunteer firefighters and join the team today: www.townofhopemills. com/155/Volunteer-Firefighters.
Closings
• The town of Hope Mills offices will be closed Jan. 1. Call (910) 426-4113 with questions.
Promote yourself
To have your business, organization or event included in this section, email us: hopemills@upandcomingweekly.com.