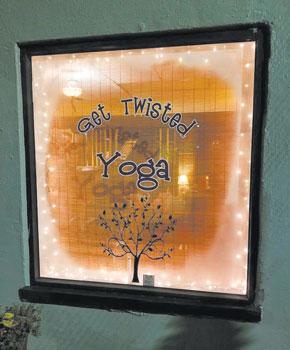 When a friend took Amy Williams to her first hot yoga class a couple of years ago, it didn't take her long to get hooked on the activity.
She liked it so much that she now runs her own business, Get Twisted Yoga on Trade Street in downtown Hope Mills.
A native of Massachusetts, Williams is a U.S. Army veteran who served for five years before leaving the military two years ago.
Hot yoga isn't just a trendy name for the service Williams provides at Get Twisted Yoga. It's the actual condition of the room where workouts are held.
"The room temperature is about 94 to 100 degrees,'' she said. The reason for the heat is to help detox the skin during the workout process, Williams said.
The heat also has other benefits. "It's meant to help people with joint issues and arthritis, things like that,'' Williams said.
Because of the heat involved, there are some advisories for participants.
The minimum age for those taking part is 16, and that still requires parental consent. They must work out while a parent or legal guardian is present.
As for the elderly, Williams said they are welcome to participate in hot yoga but should check with their family physician first to make sure they can tolerate the combination of physical activity and heat.
Get Twisted Yoga is open seven days a week, except for major holidays. There are morning classes as early as 9 a.m., but Williams said the most popular classes are in the evening, starting around 6 or 7 p.m.
Drop-in rates are $12, but various session packages are available. To view them, create an account and reserve a workout time, visit the website at gettwisted.vpweb.com. Both group and private sessions are available.
Discounts are available to the military, first responders and educators.
Williams said hot yoga can help people deal with a variety of mental and physical issues. It can be helpful for those trying to cope with post-traumatic stress disorder or other emotional problems.
She added that she's recovering from a recent surgical procedure and yoga has helped her with that.
For some, Williams said, yoga can provide an alternative to verbal counseling. "Sometimes they come to yoga to find their center, their peace.''
For those into physical fitness, it's an alternative to traditional gym workouts. "It definitely helps with core strengthening,'' she said. "When you go work out at the gym, it focuses on major muscles. Yoga focuses on a lot of the muscles we tend to neglect, which is a lot of the reason for most people having so many injuries these days.''
If hot yoga is not your cup of tea, you can also try other kinds of classes at Get Twisted Yoga. "We offer multiple types of classes – restorative, Zen and so on," Williams said. She added she wants to look into starting a Friday evening family yoga session and perhaps a daytime Sunday session.
On
Feb. 23-25
Get Twisted Yoga will host a Healing Heroes Charity Event for Warrior Pointe, a program for service members and veterans trying to transition to civilian life. Warrior Pointe provides special events and therapy for those who may be suffering from depression, post-traumatic stress disorder, anxiety or other issues. Classes will be held at various hours with $12 drop-in fees for any class. Donations will also be accepted. All proceeds from the event go to Warrior Pointe. For the complete schedule of classes, email gettwistedyoga@yahoo.com, or call Williams at 910-209-3599.
Visit gettwisted.vpweb.com to learn more about the studio.