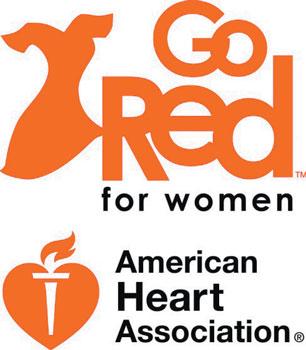 Women often speak in terms of their heart – having a full heart, a broken heart, big-hearted friends, or so-and-so is a sweetheart. People and things that matter most to us are close to our heart, and there's the Southern classic, "Bless your heart." Heart disease is the number one killer of women. More women die from heart disease than all forms of cancer combined. While the entire month of February is dedicated to heart health, the Sandhills American Heart Association is bringing the topic to the community in a powerful and practical way at the Sandhills Go Red for Women Luncheon. The event is set for Friday, Feb. 23, from 11 a.m.–2 p.m., at the Metropolitan Room in downtown Fayetteville.
"The purpose of the luncheon is to raise awareness and take a moment for the women and family members of women in the room to educate themselves and empower them with knowledge of the signs, symptoms and risk factors of heart disease and stroke," said Liz Mileshko, director of development for the American Heart Association. "In women, a heart attack may present itself as jaw pain, nausea, headache, lower back pain, dizziness – or you may not have any signs at all."
Mileshko added it is important to know your blood pressure, cholesterol levels and whether heart disease runs in the family.
While heart disease is scary, there are preventive measures women can take. "We encourage women to visit their cardiologist and get a physical once a year to make sure there are no blockages or signs pointing toward a higher risk for heart disease," said Mileshko. "We encourage 30 minutes of cardio a day, eating healthy and in moderation, having several elements of color on your plate and learning how to season and cook your food properly so you are not using a whole lot of sodium."
The goal of the event is to raise $40,000. Every dollar the American Heart Association raises goes toward funding research. The event will feature speakers, a silent auction, a survivor fashion show, a heart-healthy lunch and entertainment.
"During the luncheon portion, we will have a medical expert speaker, Dr. Tabitha Bedini. She will speak about the cold, hard facts of heart disease and stroke and your risk factors," said Mileshko. "Then our keynote speaker, Kelsy Timas, will speak about overall emotional heart health and how financial, emotional and relationship stress can affect our heart health."
Mileshko added there will be a survivor speaker in her early 30s with heart disease who will share her powerful story.
"We would like to thank our sponsors, First Health of the Carolinas and Carolina Heart & Life Center," said Mileshko. "We look forward to seeing everyone at this informative event."
Tickets cost $60 and are available at GoRedSandhillsNC.heart.org. For more information about table sponsorship opportunities, contact Mileshko at 678-907-9841 or Liz.Mileshko@heart.org.